Key Features
Ideal Post-Workout Recovery
Feed Your Muscles
Important Amino Acids
Boost your endurance while exercise
Reach Your Maximum Performance
Faster Recovery
Your body receives all the resources it needs for a speedy recovery thanks to aminoload.
including every one of the nine essential amino acids needed to enhance protein synthesis and create the anabolic conditions necessary to promote muscular growth.
L-glutamine has also been proven to hasten healing. Amino acid bioavailability and absorption are increased by astragin®. L-taurine, which increases strength and muscle fullness.
Nothing compares to Aminoload for helping you heal, repair, and bounce back for your next workout!
Boost your physical endurance
Bid adieu to time wasters like sore muscles and underwhelming workouts.
AminoLoad is designed from the start to increase muscular endurance. As a result, you may work out longer, perform more reps, and obtain better results.
Additionally, AminoLoad contains Calci-K®, a proprietary mixture that promotes growth, muscle contraction, blood flow, and pumps.
Utilize AminoLoad to perform at your best.
Remain hydrated. Do Your Best Work.
The hydration and electrolyte blend from Aminoload has all the ingredients your body needs to be hydrated and perform at your peak.
L-glutamine to hasten healing replace electrolytes lost during exercise using coconut water. L-taurine can control blood sugar. And Astragin®, which has been demonstrated to enhance gut health while lowering inflammation.
These resources enable you to keep up your workout performance, recover more effectively than before, and return tomorrow with a fury.
WHAT TIME OF DAY IS BEST TO TAKE AMINOLOAD?
It is preferable to take AminoLoad during and right after your workout.
Drink whenever you want during non-training days to get the most out of your performance and recovery.
ARE THERE ANY CAFFEINE OR OTHER STIMULANTS IN AMINOLOAD?
No, AminoLoad doesn't include any caffeine or stimulants, so you can consume it whenever you like during the day or night without worrying about how it will influence your sleep.
WILL AMINOLOAD HELP ME BUILD MUSCLE?
All nine of the necessary amino acids are included in AminoLoad. Since amino acids constitute the foundation of proteins, they are essential for gaining muscle mass.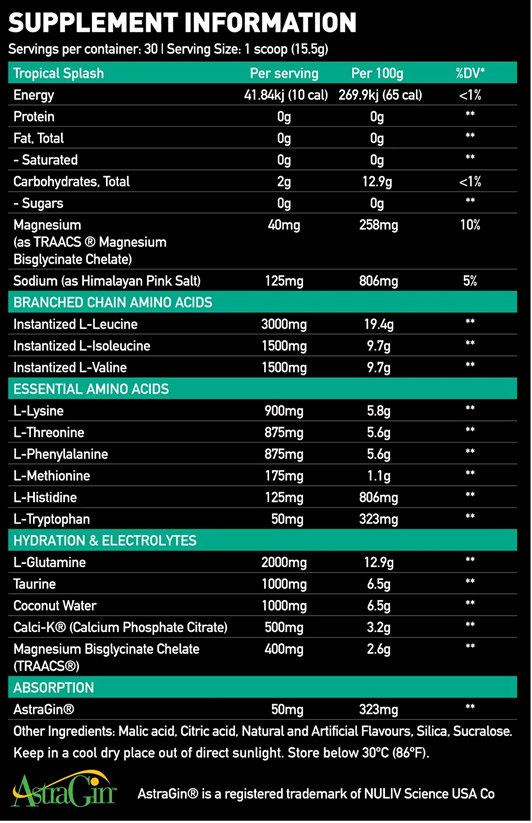 Customers who bought this product also bought: