Trusted Nutrition Creatine is pure, micronized creatine monohydrate of pharmaceutical quality.
According to studies, older persons who train with resistance exercises and take creatine monohydrate see an increase in their muscular mass. Additionally, we have previously noted that after four months of daily supplementation with 5g of creatine monohydrate, older adults exhibit a notable rise in total muscle creatine. In older individuals, resistance exercise training results in an increase in the number of satellite cells, and creatine monohydrate has been demonstrated to improve the activation of satellite cells after strength exercise training in young males. Together, the aforementioned data revealed that creatine monohydrate may improve the activation of satellite cells brought on by resistance exercise and help explain the increase in muscle mass observed in a well-designed study. Given that creatine monohydrate potentiated the muscular growth as a muscle stimulating agent, the increase in muscle mass was caused by this substance.
Features
Vegan-friendly.
both lactose- and gluten-free.
substance-free, prohibited.
Creatine that has been micronized to a pharmaceutical-grade standard.
may help with muscle strength and development.
can be helpful for professional and amateur athletes, bodybuilders, HIIT trainers, sprinters, endurance competitors
Benefits
Creatine is the best muscle support supplement for maximising the benefits of each workout and your outcomes because it is the most well studied and efficient supplement in the world. The 100% pure, micronized, pharmaceutical-grade Creatine from Trusted Nutrition is intended to increase energy so that your muscles can keep up with your demanding exercise schedule and to stimulate muscular growth and strength.
Every athlete, whether they are a bodybuilder, HIIT trainer, sprinter, endurance competition, or recreational athlete, can take advantage of the world's most researched supplement's comprehensive muscle-building advantages. The ideal option for those looking to accelerate their results is Trusted Nutrition 100% micronised Creatine, which is devoid of gluten, lactose, is suitable for vegans, and contains no illegal substances.
Summary
With the top quality pure micronised, 100% pharmaceutical-grade Creatine from Trusted Nutrition, you can get more out of every workout and get greater results to show for it. This vegan-friendly, gluten-free, lactose-free, and prohibited substance-free mix has you covered for everything from muscle strength and energy to muscle growth!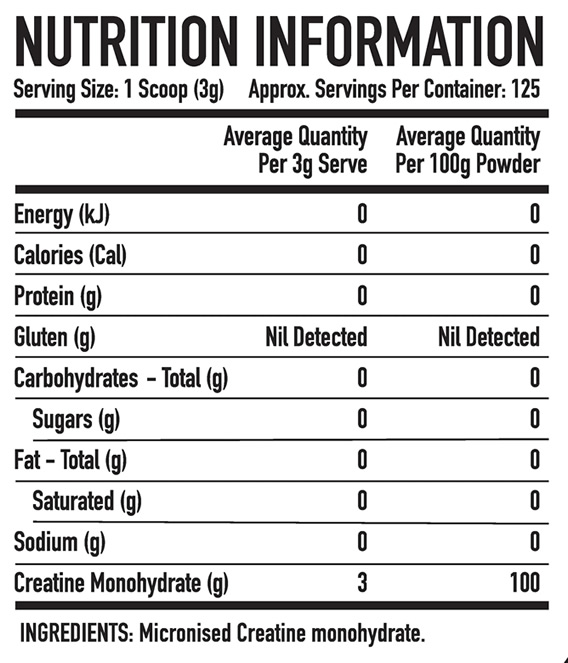 Customers who bought this product also bought:
Onest Health
Free Shipping Australia Wide - Aminoload by Onest Heath