Keep training to your absolute best with Xtend Energy by Scivation. With the combination of ingredients that may help support energy, focus and body composition goals, this product will help you power through a gruelling session.
When you get to the gym, you want to make sure you are working out to your best potential. Xtend Energy by Scivation has been scientifically designed to deliver nutrients to the body so you can endure the hardest workouts.
Feeling flat after your workout? Xtend Energy will provide you with a pick me up so you can power through the day after a hard session. With added caffeine and branched-chain amino acids, you will get it done.
Hydration is another crucial part after a tough session, as you tend to sweat and lose nutrients out of the body. Without the right nutrients and fluids in the body, dehydration might occur, so replenish your body with the proper nutrients and fluids to stay in your best form.
When you have Xtend Energy by Scivation, you'll:
Support muscle growth and recovery
Support energy and focus
Replenish electrolytes
If you find yourself dripping in sweat and hoping that your energy levels last so you can rep one more set or one last pump, Xtend Energy by Scivation is the product for you. You will fuel your body with the right nutrients after a hard session in the gym. Don't look back and smash your sessions out with the energy requirements to crush every rep.
When you follow a diet and exercise plan designed to your body goals, you will see better results. Xtend Energy by Scivation will support rehydration and energy requirements when you need the most. Take charge of your health today and achieve the unachievable.
Each serve (1 level scoop/11.6g) of Xtend Energy by Scivation has:
7g of BCAAs, which is 3.5g of L-leucine, 1.75g of L-isoleucine and 1.75g of L-valine)
125mg of Caffeine
1g of Citrulline Malate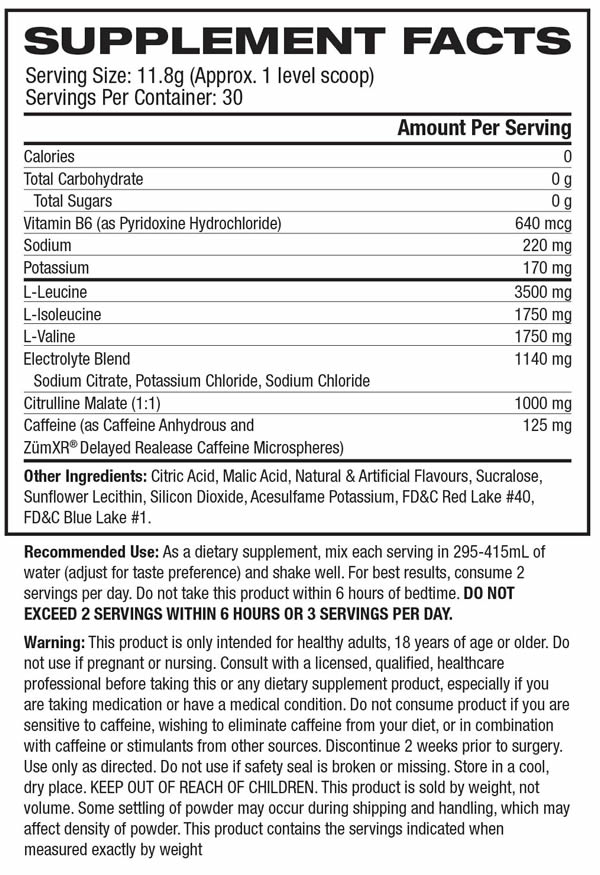 Customers who bought this product also bought: