Optimum Nutrition Serious Mass - Weight Gainer
BUILD SERIOUS SIZE, FAST with Optimum Nutrition Serious Mass.
With Optimum Nutrition Serious Bulk, gaining mass has never been easier. This weight gainer powder packs 50g of mixed protein, including Whey Concentrate and Isolates, as well as casein and egg proteins, into two big 167g scoops. Look no further if you want to take your muscle-building to the next level, with over 250g of carbohydrates, no added sugar, plus creatine, glutamine, and glutamic acid to support strength and recovery.
Weight gainer with a lot of power.
Gains in muscle mass.
Protein with a high nutritional value.
Per serving, there are 1250 calories.
With 25 vitamins and minerals, it's a complete meal replacement.
Plus, with as low as 7g of fat and 25 vitamins and minerals, you can ditch the dirty bulking and reach for a tub of Optimum Nutrition Serious Mass to flood your body with muscle-building ingredients capable of sky-rocketing your daily protein and carb consumption.
The protein combination in Optimum Nutrition Serious Mass is easy to digest, promoting muscle protein synthesis and supplying rapid protein for a more intense workout and faster recovery. Whey protein concentrate is a high-quality, medium-digesting, high-absorption protein that is highly bioactive and contains the right amount of muscle amino acids. It provides your body with all of the amino acids it requires to function correctly and create muscle. It also contains enzymes that boost glutathione levels, the body's most powerful antioxidant.
Calcium caseinate is a high-quality milk protein that is slow to absorb and digest, which can aid athletes and bodybuilders avoid muscle protein breakdown. It can help maintain, repair, and increase muscle mass when used in conjunction with a healthy diet and regular exercise. Those concerned with fitness and exercise may find calcium caseinate to be extremely beneficial. The amino acids arginine, isoleucine, histidine, leucine, methionine, lysine, threonine, phenylalanine, tryptophan, and valine are abundant in egg albumen. The nutrients folic acid, vitamin A, vitamin D, B vitamins, and secondary plant products found in Egg albumen make it unique. This formula also contains creatine monohydrate, choline, glutamine, and inositol, all of which are critical micronutrients for anabolic activity. Optimum Nutrition Considerable Mass will help you prepare for intensive gym sessions and grow serious muscle mass. Prepare for one of the most delicious and best-textured shakes on the market, available in Banana, Vanilla, and Chocolate. Don't forget to add a splash of low-fat milk to amp up the calorie count!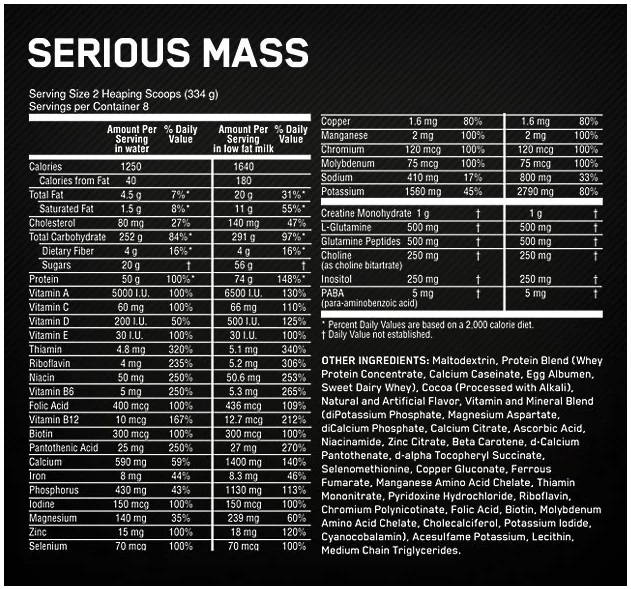 Customers who bought this product also bought: