Get Lean, Hard and Shredded !
Blended protein for sustained release, longer growth window and appetite control
Powerful carb blocking nutrients that stop conversion of carbs to fat
Fat burners to increase your metabolism and incinerate fat
Added and naturally occurring BCAA's (Leucine, Isoleucine and Valine) – 6.3 grams per serve
Added Glutamine for fast recovery and reduced muscle soreness – 4.4 grams per serve
Mixes instantly and tastes amazing
Being diced year round I know a thing or two about this particular subject. But when summer's coming, or its comp time, then that's when we all want those veins poppin' and a ripped 6 pack. Am I right? Now getting shredded doesn't just happen by chance, it takes hard work and dedication, but there's nothin' wrong with gettin' a little help along the way – if you know what I'm saying! So I'm going to let you in on my little secret… In fact you've got it in your hands right now, that's right, it's my MAX'S SHRED System!
This awesome formula will help you build lean shredded muscle and burn fat – GUARANTEED! It's packed with the latest in lean nutrition science, like our Lean Protein Blend, Fat Incinerating Complex, and our Nitrogen Retention Technology – I love that kinda talk!
So if you want the kind of bod that sets you apart from that pack, do what BIG MAXY says and get into my MAX'S SHRED System to build the lean shredded physique you've always wanted!
TECHNICAL STUFF
Getting really shredded requires consistency and discipline. You must train with intensity and continue to push your muscles to their absolute limits and beyond. But developing a lean and impressive physique requires more than just hard training. Diet is the key. Every lean and ripped physique is the result of constant attention to diet. You must plan your total nutrition intake, and stick to your plan.
A high protein diet with moderate carbs and fats is the proven and reliable way to get shredded and stay that way. Of course you have to watch your calorie intake, but upping your protein should be the key element of your nutrition. Getting the right amount of protein is often difficult if you are relying on food alone. This is where MAX'S SHRED System is ideal. This fantastic high protein formula packs a blend of fast, medium and slow absorbing protein to keep you feeling satisfied for hours while it supplies your muscles with the protein building blocks they need to recover and grow.
But it's not just about protein. SHRED System also provides potent carb blockers and fat burners to fire up your metabolism so you burn more fat, while your training, throughout your day, and even when you're resting. It all adds up to a leaner more shredded physique.
Anabolic Protein Blend
Blended proteins verses single protein – it's a hot topic. When your goal is to get lean and shredded, what should you look for? What you need to know is that different proteins have specific characteristic, strengths and weaknesses. Whey is fast acting – ideal for taking after training but not a good choice before bed when you need slow release. In fact science now supports protein blends as the best muscle building option. Quite simply, you get enhanced protein synthesis by taking a blend of fast, medium and slow proteins than by just taking one type of protein alone because you get a longer opportunity for protein synthesis. But there's another benefits for trainers wanting to get ripped. Slow Release Caseins form a gel in your stomach during digestion, which makes the casein much slower to digest and keeps you feeling fuller for longer – which is ideal when you are watching your calorie intake.
This is the thinking behind our MAX'S Anabolic Protein Blend. You get a specific combination of fast, medium and slow dairy proteins to keep you growing longer plus the slower digesting caseins keep you feeling satisfied to make calorie restriction easier.
Hydrolyzed Whey Peptides – Immediate: Pre-digested Whey Proteins provide peptides for rapid absorption and assimilation
Whey Protein Isolate (WPI) – Fast: WPI is natures best protein for building lean muscle
Whey Protein Concentrate (WPC) – Medium: WPC is an excellent muscle builder with many health promoting benefits
Casein – Slow: Casein gels in your stomach during digestion which means it is absorbed slower
MAX'S SHRED System also includes our cutting edge Fat Incinerating Complex – a combination of powerful fat metabolizing and carb blocking nutrients to help you achieve best ever results:
Fat Burners
Conjugated Linoleic Acid (CLA) – is a unique type of fatty acid to exhibits a wide range of beneficial metabolic and health effects. Studies confirm CLA has a strong positive effect on body composition with prolonged use by increasing uptake of nutrients (fats, carbs and protein) into muscle cells that leads to enhanced protein synthesis, higher metabolic rates and reduced fat storage.
Green Tea Extract – contains powerful antioxidants called catechin polyphenols that are responsible for many health benefits. One catechin in particular, epigallocatechin gallate (EGCG), stimulates your metabolism to burn fat and accelerate weight loss. EGCG stimulates the central nervous system and causes fat to be released into the blood stream for the body to use as fuel.
Raspberry Ketones – are organic compounds that give raspberries their colour and flavour. They stimulate fat cells to mobilize stored fat which can then be burned for fuel to get you leaner with more energy
African Mango Seed Extract increases specific blood levels of the fat metabolism regulators leptin and adiponectin that help increase your fat burning metabolism.
Guarana comes from the seeds of a South American shrub Paullinia Cupana. The primary active compounds in guarana are the alkaloids theobromine and theophylline. These compounds combine to stimulate the central nervous system, increasing your metabolic rate and thermogenesis.
Caffeine – research shows that caffeine helps trainers burn twice as many fat calories in the hour after finishing exercise. Caffeine will also improve performance during both short term, high intensity exercise such as weight training and endurance exercise.
Acetyl L-Carnitine – is a naturally occurring amino acid that helps shunt free fatty acids from your bloodstream into muscle cell mitochondria giving the double benefit of providing more fuel for greater energy plus increased fat burning for greater fat loss.
Carb Blockers
Garcinia Cambogia – is a small tropical fruit that contains a potent carbohydrate regulating compound – Hydroxy Citric Acid or HCA. It's main action is to block an enzyme called citrate lyase, which your body uses to convert carbohydrates to fats
Phaseolamin is an extract of white kidney beans that inhibits the action of the starch digesting enzyme Alpha-amylase in your digestive tract. When starches can't be properly digested in your small intestine, they aren't absorbed and so pass through you.
Green Coffee Extract acts in two ways to regulate carbohydrate metabolism.
GCA inhibits absorption of glucose in the small intestine by modulating factors needed for sugar absorption.
The key active component of GCA, Chlorogenic Acid, regulates enzymes in your liver that regulate the production of glucose.
This dual effect on sugar absorption and sugar production is an effective mechanism for maintaining normal blood sugar levels and so stops carbs from being pushed into fat storage
Nitrogen Retention Technology
MAX'S Nitrogen Retention combines recovery and growth stimulating amino acids:
L-Glutamine – is the most abundant free amino acid in human muscle and plasma and is needed at high levels by rapidly dividing cells during protein synthesis. Heavy training dramatically lowers blood plasma levels of Glutamine which will inhibit recovery and muscle growth. Glutamine supplementation dramatically shortens recovery times, reduces muscle soreness and stimulates higher rates of protein synthesis for muscle growth.
Branched Chain Amino Acids – L-Leucine, L-Isoleucine and L-Valine. These 3 special amino acids are taken up rapidly by skeletal muscle after intense training to help initiate muscle recovery. L-Leucine in particular has emerged as the key regulator of protein synthesis by activating the mTOR pathway in muscle and must be present in optimal amounts to stimulate muscle growth. 
Suitable For – MAX'S SHRED System is recommended for trainers whose goal is to strip fat and build a lean muscular physique. It is also ideal for competition bodybuilders who are dieting to achieve low body fat levels while retaining maximum lean muscle mass.
Recommended Usage – Add 1 scoop to a blender or shaker with 200 – 250 ml of water or milk and mix for 30 seconds until completely dispersed. Take 1 – 2 serves per day in addition to, or to replace regular meals. Dosage may be increased for bigger, heavier trainers, or if more protein is required to meet training needs. (1 scoop = approx. 30g)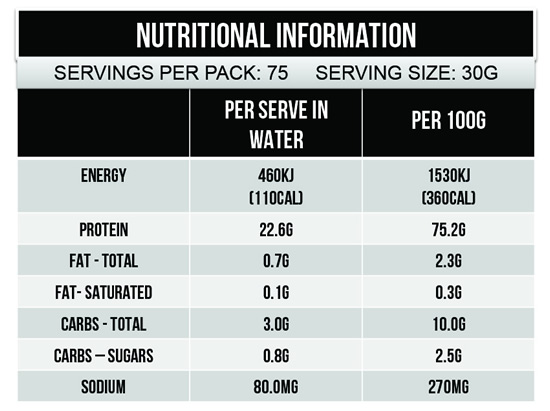 Customers who bought this product also bought: