MuscleTech Vapor Max is a maximum-strength clinically-dosed pre-workout containing a range of amino acids, herbal extracts and phytochemicals, offered in two delicious flavours: Blood Orange and Sour Peach. This product delivers unrivalled energy, stamina, focus and mood for the ultimate training and sensory experience.
Product Features
Enhance Energy & Stamina.
Boost Mood and Focus.
Increase Training Intensity.
Support Nitric Oxide.
Buffer Lactic Acid.
Vapor Max Pre-Workout contains the nitric oxide enhancer L-Citrulline Malate. This amino acid enhances blood arginine levels, providing loads of basic precursor for nitric oxide synthesis. This causes dilation of blood vessels allowing more nutrients and oxygen to flow to muscle tissue, allowing for enhanced performance and a greater pump experience.
MuscleTech Vapor Max contains pure ATP, the universal energy source. This specialised ingredient has demonstrated natural performance enhancing attributes and improved body composition parameters.
In addition, each serve of Vapor Max contains the equivalent of approximately 2.5 cups of regular strength coffee (250mg caffeine). This improves motivation to exercise, mood and delivers a definite thermogenic effect.
WIth other mood and focus enhancing nutrients, such as Theacrine and Huperzine-A, you can be sure that Muscle Tech Vapor Max is ready to up your training intensity, enhance body composition and make you feel good in the process.
MuscleTech Vapor Max
Mix 1 Scoop (14g) into 500-800ml Cold Water and consume 30 minutes before exercise. If you are unsure of your caffeine tolerance, start with 1/4 scoop taken before lunch.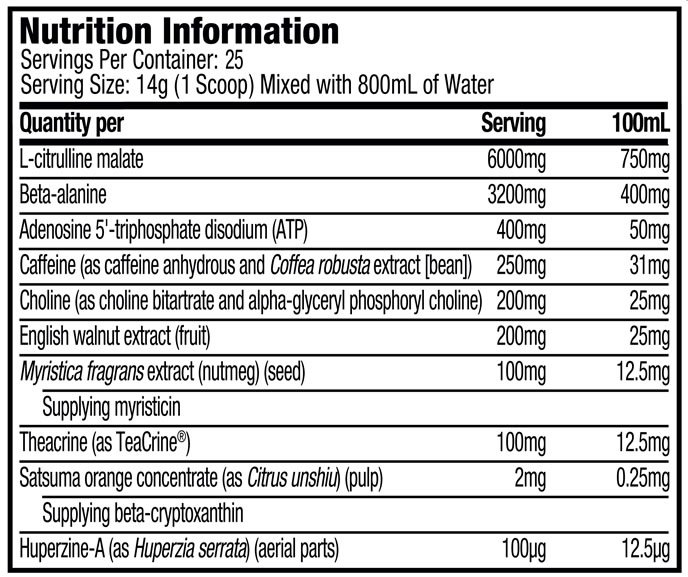 Customers who bought this product also bought: