Optimum Nutrition Glutamine
Glutamine is the most abundant amino acid in the body, comprising more than 60% of the free amino acid pool in skeletal muscle and greater than 20% of total circulating amino acids. Supplemental L-Glutamine may help reduce muscle soreness and rebuild muscle tissue.
Glutamine is depleted in specific situations, as the name implies, and there are three main periods when replenishment might help an individual:
During times of illness or stress
When you're dealing with gastrointestinal problems,
Post-workout
glutamine supplementation during these three phases can help reduce the negative effects of stress and illness, keeping you healthy, and glutamine can also help rebuild and repair a damaged stomach lining.
Taking glutamine after a workout may help to speed up the recovery of glutamine levels, allowing for better protein synthesis.
Beyond The Basics
Made with Pure L-Glutamine
Unflavored Versatility
Add to Protein & MRP Shakes
Mixes Easily with a Spoon
Wide Variety of Available Sizes
Supports Muscle Recovery Efforts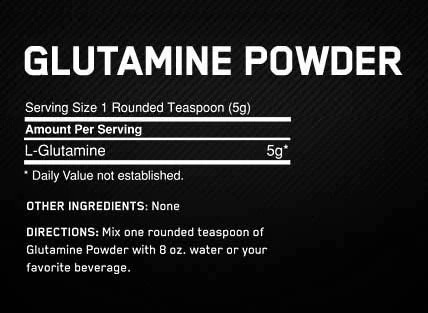 Customers who bought this product also bought: