Hydroxycut Hardcore Elite by MuscleTech
MuscleTech Hydroxycut Hardcore Elite will help you lose weight, gain energy, and focus. Green Coffee, Forskolin, and Theobroma are just a few of the fat-burning substances in this mix to assist you to reach your fat-loss goals. Each super thermogenic capsule contains specific elements that improve your metabolism and increase fat burning. Caffeine Anhydrous in Hydroxycut Hardcore Elite boosts adrenaline levels, which causes fat cells to release fatty acids into the bloodstream, where they can be burned for energy. Caffeine also suppresses hunger and increases energy as well as metabolism.
THE BENEFITS
ONE-OF-A-KIND SENSORY EXPERIENCE
With a unique formula featuring a combination of potent ingredients.
FUEL INTENSE WORKOUTS
With a thermogenic and energy experience with serious intensity.
ENHANCE ENERGY, CALORIE BURNING, & THERMOGENESIS
Engineered with a researched dose of caffeine to tackle tough workouts and jam-packed days.
Forskolin is another significant element in MuscleTech Hydroxycut Hardcore Elite. This component has a long history as a tonic for a healthy heart, sexual health, and longevity in Ayurvedic medicine. It improves libido by increasing Test levels, but it is very promising in fat burning because to its ability to raise cyclic adenosine monophosphate levels in the blood. Fat cells are cleaned of fatty substances by cyclic adenosine monophosphate, which is then broken down into fatty acids. After then, the mitochondria will utilise them to generate energy. Include MuscleTech Hydroxycut Hardcore Elite in your training routine to reap the benefits of a potent composition that includes not one, but two clinically proven substances!
THE SCIENCE
This formula contains an effective and precise dose of caffeine anhydrous, which has been shown in research to enhance energy, increase calorie burning, and thermogenesis.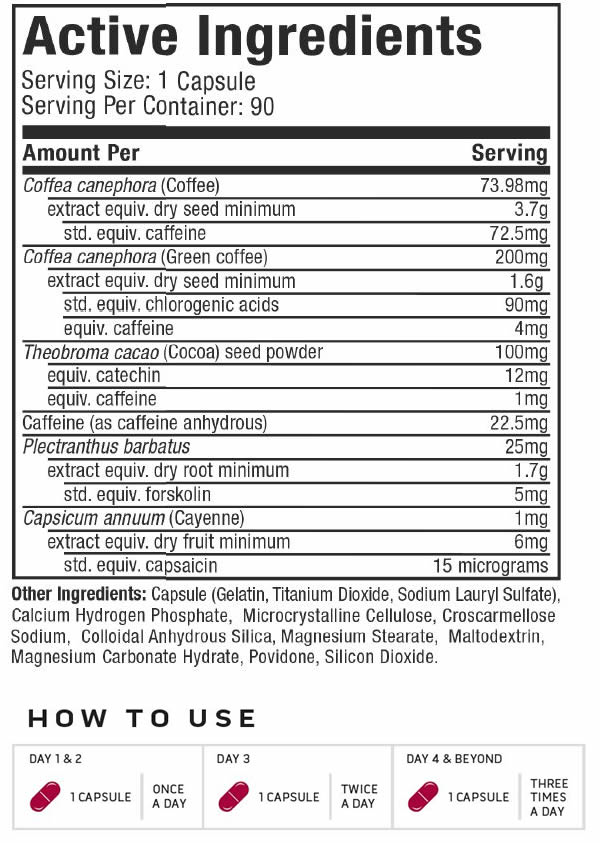 Customers who bought this product also bought: