OPTIBURN IS A COMPLETE FAT BURNING SOLUTION THAT USES FIVE FOCUSED METHODS TO HELP WITH FAT AND WEIGHT LOSS.
THERMOGENESIS
Thermogenesis is the method of literally burning fat through heat. As the body's internal temperature rises, so too do the metabolic processes, which begin to move and break down fat for use as fuel. Optiburn has a multitude of ingredients to increase the core body temperature and accelerate fat burning.
HUNGER MANAGEMENT
Hunger Management is a critical tool that is all too often overlooked by other products. Optiburn contains extracts that dull the appetite, making it easier to diet and prevent overeating due to stress, hormones, or boredom.
FAT TRANSPORTATION & BLOCKING
Fat Transportation & Blocking is defined as the internal action of the body to both prevent storage of fat and efficiently use existing fat stores for energy. No other product contains such a complete, ingredient profile for this specific and vitally important action.
MOOD ENHANCEMENT & ENERGY
Mood Enhancement & Energy are rarely associated with weight control products, but they should be. Without feeling energetic and happy, no diet or exercise regime will stick. For years, customers of Optiburn have been describing "The Optiburn Feeling" of increased energy, health, and happiness while training hard and eating right!
WATER STORAGE
Water Storage is caused by many factors including diet, stress, and even hormones. The natural diuretics in Optiburn help to flush excess water out of the body to speed up improvements.
SUGGESTED USE
Recommended adult dose is one serving in the morning. For best results, do not take with meals. Consume 30 minutes before a meal. Do not exceed recommended dosage. Do not take within 6 hours of sleep. Use only as directed. May aid or assist weight loss by suppression of appetite in conjunction with (or as part of) a kilojoule/ calorie controlled eating plan and appropriate exercise plan.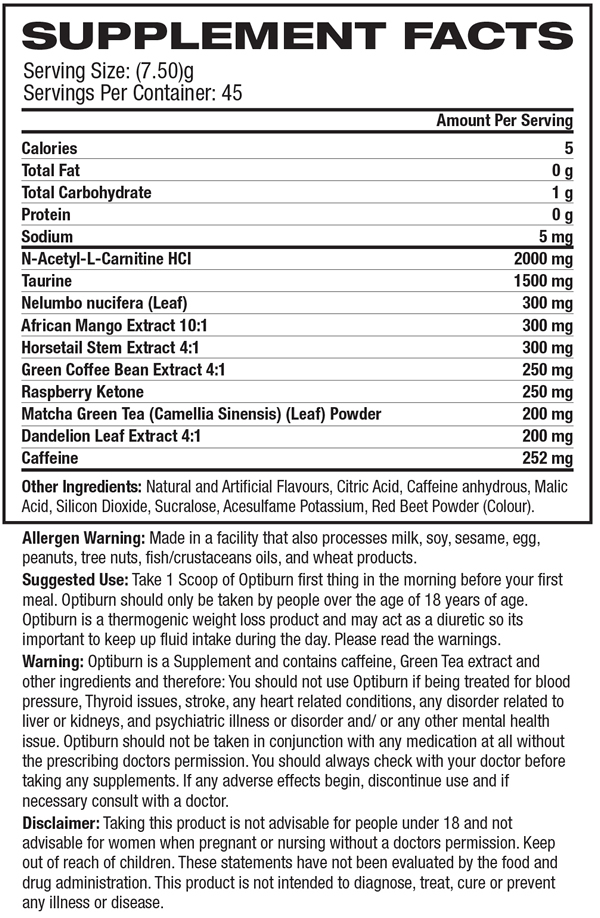 Customers who bought this product also bought: