No Other Protein Compares to HumaPro®:
ALR Humapro is a highly detailed amino acid formula designed for rapid recovery and growth. Unlike many other proteins ALR Humpro is almost 100% absorbed allowing for optimal recovery with less than 1calorie per serve. This essential amino acid formula has a vegetable origin and has been developed based on the optimal human enzymic conversion of, and ultilization rates for all amino acids in the body. One 40g serve of Humapro is equivalent to 224g of pharmaceutical grade whey protein isolate, this shows just how potent Humapro is at offering your body the most pure amino acid complex.
Economical: Costs less per serving than other proteins†
Super Concentrated: *1 serving of HumaPro® = a Whole Food Protein Equivalent of 25g averaged, with only 0.02 calories per serving†
1 serving of HumaPro®: 0.02 Calories, *25g Protein, 0g Carbs & 0g Fats.
4 oz. of Chicken Breast: 130 Calories, 24.20g Protein, 0g Carbs & 23.95g Fats.
5 oz. Lean Beef: 361 Calories, 24.38g Protein, 0g Carbs & 28.40g Fats.
By replacing meat in just 2 meals per day, you can save roughly 500 calories!
HumaPro® powder is also Vegan Friendly, and contains NO: Gluten, Soy, Sugar, Lactose or Heavy Metals.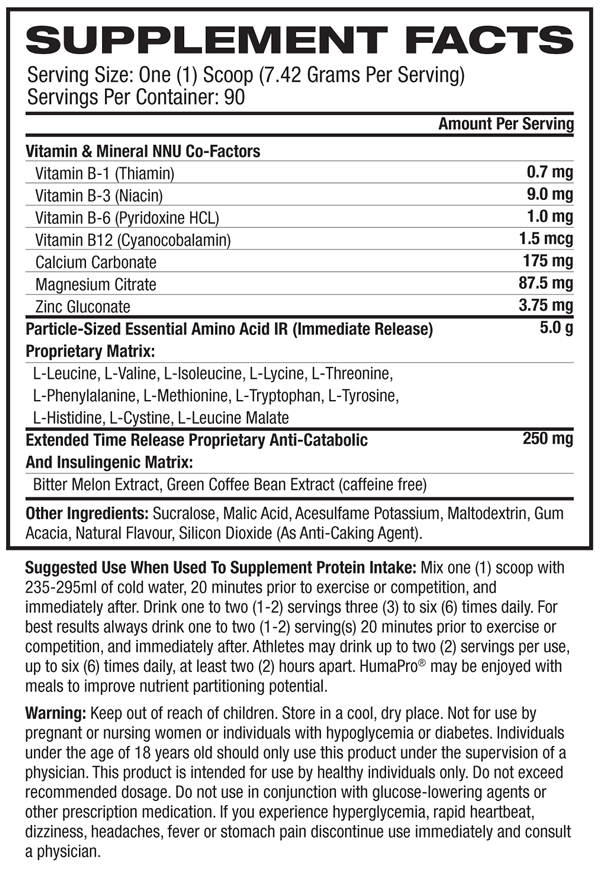 Customers who bought this product also bought: