Nitrotech Whey Protein
GOALS REDEFINED
Nitro-Tech® is a best-in-class, scientifically engineered whey protein product, boosted with a well-studied type of creatine, plus whey protein for increased lean muscle mass during exercise.
THE INFORMATION ON THE LABEL
For a reason, this is the original – and proof that we are constantly pushing the boundaries of science and study. Are you ready to take things to the next level? Nitro-Tech® will assist you in achieving your goals.
GO ABOVE AND BEYOND THE ORDINARY
Nitro-Tech® is the result of decades of obsessing about formulations, securing patents, and investing in research — and it's paid off.
PROTEIN WITH STRENGTH THAT DELIVERS
It's clean and simple — and it works. Nitro-Tech® contains 30g of protein in a single scoop, principally from whey protein peptides and whey concentrate, both of which are clean and pure protein sources.
INCLUDES EVERYTHING YOU REQUIRE, BUT NOTHING YOU DO NOT.
Whey protein that has been filtered using Multi-Phase Filtration Technology to remove undesired carbohydrates and fat is delivered by Nitro-Tech®. After all, what matters is what's on the inside.
Ingredients
Key Ingredients: Protein Blend (Whey Peptides [43%], Whey Protein Concentrate [42%], Whey Protein Isolate [2%], 97% Whey Protein Isolate [0.2%]) (Milk), L-leucine, L-valine, L-isoleucine, Creatine Monohydrate
Directions
Mix 1 level scoop (45.6g) in 180mL of cold water in a glass or shaker cup. Drink 8 to 10 glasses of water daily. Read the entire label before use and follow the directions provided.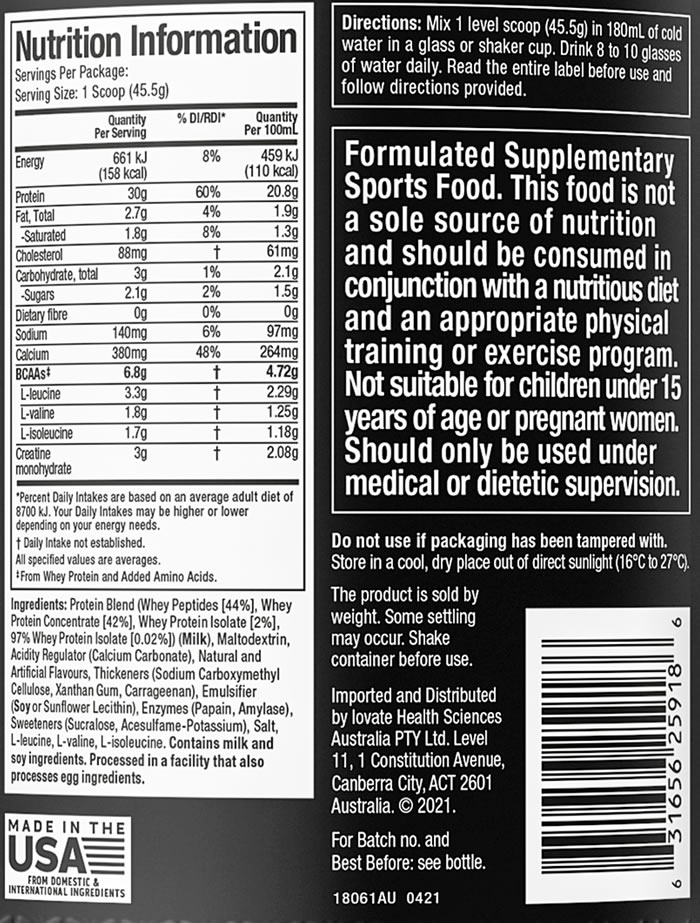 Customers who bought this product also bought: