STOP CATABOLISM & SHORTEN RECOVERY!
Pharmaceutical grade
Pure n-acetyl l-glutamine
Pure l-glutamine
No fillers, sweeteners or flavours
The Science
Glutamine is the most abundant amino acid in human skeletal muscle and is one of the most important amino acids for hard trainers. When you workout your circulating Glutamine levels drop, and your body responds by starting to catabolise or break down muscle tissue to release Glutamine. It particularly catabolises the muscles you have trained to supply Glutamine to the rest of your body – which is definitely what you don't want!
Taking an effective Glutamine supplement like MAX'S Glutamine+ after intense workouts stops muscle catabolism (tissue breakdown) and stimulates muscle anabolism (muscle synthesis). It also helps prevent the immune suppression associated with hard training which means you stay healthy. Glutamine also provides an effective fuel source for tiring muscles and helps keep you alert and focussed during hard workouts.
While L-Glutamine is an effective form of Glutamine, it is quickly broken down in your gut meaning not all of the Glutamine you consume is used effectively. MAX'S Glutamine+ combines fast acting free form L-Glutamine with stabilised N-Acetyl L-Glutamine for a fast and sustained release Glutamine complex. N-Acetyl L-Glutamine is an acetylated analog of L-Glutamine which is more stable and slower to break down than free form L-Glutamine. MAX'S Glutamine+ can be taken before workouts to provide that extra source of energy to push beyond your normal limits, and after workouts for faster recovery and maximum anabolic growth.
Key Ingredients
• L-Glutamine is a conditionally essential amino acid that is depleted during strenuous exercise. In the bodybuilding world, Glutamine is synonymous with recovery and immune function. L-Glutamine is quickly absorbed however is broken down quite quickly in the gut.
• N-Acetyl L-Glutamine is the acetylated version of Glutamine, and is more stable in water, making it a sustained release form of Glutamine that compliments faster absorbing L-Glutamine.
MAX'S Glutamine+ is a 65:35 Blend of free form L-Glutamine and N-Acetyl L-Glutamine to give you the optimum Glutamine formula. It contains no sweeteners, fillers or flavours, just pure Glutamine hybrids.
Recommended Usage
Take 5 grams (1 scoop) immediately after training to stop muscle breakdown and stimulate recovery. Take 5gm before bed to aid muscle recovery and growth while you sleep. For best results combine with MAX'S BCAA 10:1:1. Can be taken straight or mixed with a sports drink, juice or added to your protein shakes.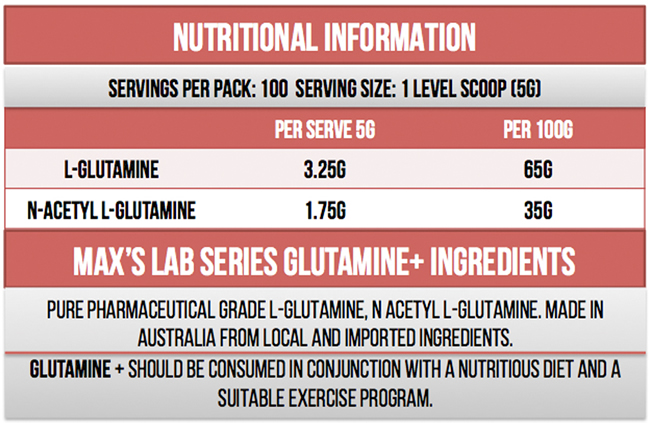 Customers who bought this product also bought: