COUGAR JUICE?
Because calling it a Collagen is an understatement.
The term 'cougar' has taken on new meaning in recent years. Cougar is now a word used to characterise energetic, fun-loving, and charming ladies who appear to be much younger than they are. Given this, it'll be difficult to find someone who doesn't think the reference is flattering.
The desire to be a Cougar has never been stronger or more achievable in Australia, with billions of dollars spent on cosmetic surgery, make-up, weight loss, vitamins, minerals, and beauty treatments each year.
Collagen makes up 75% of our skin, over 90% of our ligaments, and 35% of our bones, making it the second most abundant component in our bodies after water. Collagen, simply defined, is the glue that ties our bodies together, and it should be a part of everyone's daily routine.
Faction Labs Cougar Juice is a unique and complete source of high-quality protein, containing a blend of Marine, Bovine, and Cartilage Collagen, as well as L-Trytophan. Faction Labs Cougar Juice has an Antioxidant Complex (Silica, Vitamins A, C, and E, Copper, Selenium, and Biotin) as well as an Immune Support Matrix in addition to Types I, II, and III Collagen (L-Glutamine, L-Glycine, Fibresol, L-Proline, Slippery Elm, L-Tryptophan and a Broad Spectrum Probiotic).
With the addition of an Antioxidant Complex and an Immune Support Matrix, a 3-in-1 full health and beauty solution has been created. Faction Labs Cougar Juice has 13g of Collagen, Prebiotics, Probiotics, Antioxidants, and an Immune Support Matrix to make you glow from the inside out.
Collagen Types I and III Marine and Bovine
Hair, skin, nails, muscles, and bones all need Type I and Type III collagen to stay healthy and fit. Together, these two forms of collagen account for more than 90% of all collagen in the body.
Collagen Type II (Chicken Cartilage)
Type II collagen is the most effective for sustaining cartilage in the body, and its significance in supporting joint movement during sporting activities has been thoroughly researched.
Probiotics and Prebiotics (The Good Bacteria)
Prebiotics and probiotics support a healthy digestive and immune system by protecting and nourishing your gut. Probiotics are the beneficial bacteria in your stomach, while prebiotics are the bacteria that feed them.
Antioxidants (Vitamin A, C & E)
Vitamin A promotes a healthy epidermal repair cycle. Vitamin E helps to neutralise free radicals in our skin that harm collagen cells, and when paired with Vitamin C, these two antioxidants help to promote collagen synthesis.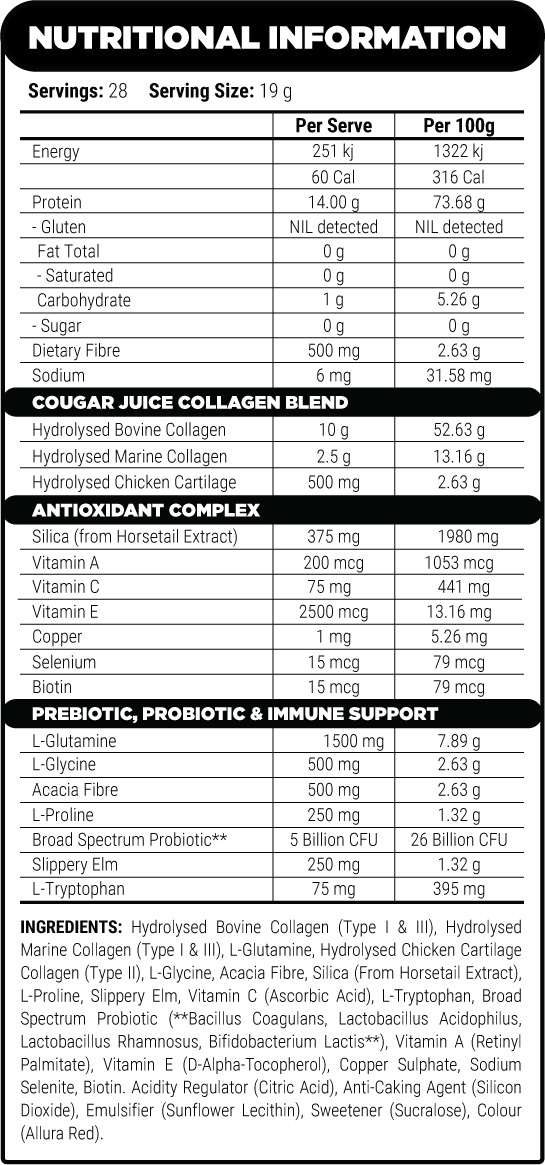 Customers who bought this product also bought: