BSc in Body Science Clean Plant Protein
Finally, a plant-based protein that shares your concern for your fitness and health goals has been discovered! Body Science Clean Plant Protein is a premium whole-food formula developed for results. It has no artificial colours, flavours, or sweeteners and is manufactured only from quality, wholesome ingredients. Pea protein isolate, brown rice protein, and creamy faba bean are combined in this plant-based protein blend to give a full amino-acid profile to support your fitness and wellness goals.
Key Features
A whopping more than 30g of protein*
Less than 5g carbs per serve*
8g fibre*
100% vegan
Eco friendly
Organic food
Dairy Free
No Eggs
No Sugar
Soy Free
Gluten Free
No Filler & Gum
GMO Free
No ­Peanuts
No Trans fat
Because the condition of your gut is so important for your overall health, Body Science has combined three cutting-edge, premium nutrients to help you get the most out of your diet. DigeZyme® is a multi-enzyme complex that aids in the breakdown of lipids, carbs, lactose, cellulose fibres, and proteins for optimum protein absorption and utilisation; Prebiotic, which has been shown to support healthy weight management and aid in calcium body without the difficulties of regular grains, and AncienTrim®, an organic combination of amaranth, quinoa, buckwheat, millet, and chia that is intended to incorporate the healthy protein, fibre, and essential amino acids of ancient grains into a modern diet. Your body and taste buds will appreciate you for the supplement made with these nutrients and a vegan protein blend.
Pea protein isolate and brown rice protein are two excellent vegan-friendly protein sources that may be combined to create the Clean Plant Protein Blend. Along with Faba Bean, which gives this mixture its delightful and creamy texture, they collectively offer a full-spectrum amino acid profile that supports general health.
Prebiotics are a type of naturally occuring bacteria that aid in calcium absorption and the maintenance of a healthy weight.
To aid in the absorption of nutrients and their integration into the bloodstream, DigeZyme® is a comprehensive blend of the main digestive enzymes that is offered in raw powder form.
AncienTrim® is an all-natural combination of chia, amaranth, quinoa, buckwheat, millet, and buckwheat that is intended to give the benefits protein, fibre, and vital amino acids of ancient grains in a creamy, smooth powder form.
No one should have to sacrifice flavour to eat healthily! Smooth, creamy, and tasty, 100% vegan-friendly, naturally sweetened, and gluten-free Body Science Clean Plant Protein is available. It's the ideal addition to any shake, smoothie bowl, oats, or protein pancakes and comes in a variety of delectable flavours to suit every palate. It makes a wonderful post-workout protein hit or a tasty snack any time of the day! Giving your body the necessary protein and support for a healthy digestive system has never been simpler or more delicious than with Body Science Clean Plant Protein.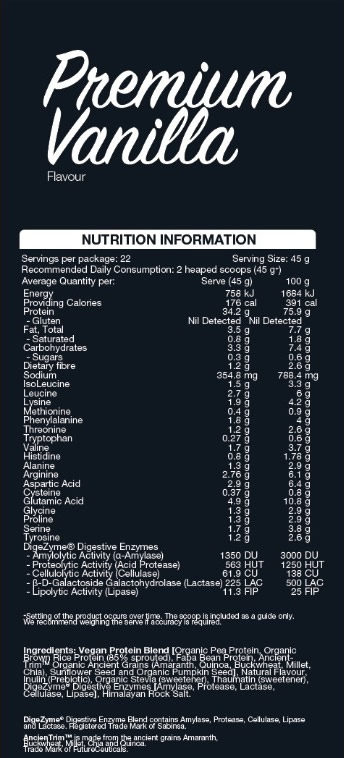 Customers who bought this product also bought: