LOW CARB HIGH PROTEIN BAR
GREEN COFFEE EXTRACT
FAT METABOLISER
L-CARNITINE
SERIOUSLY DELICIOUS
Quality Low Carb Protein Bars in Lots of Great Flavours
Pushing your limits in the gym is only half the battle towards getting your body into peak physical shape. As they say, abs are made in the kitchen, so you need to maintain a strong focus on what you're putting into your body. Unfortunately, we can't always have a freshly-cooked salmon steak or chicken breast on hand, so if you're looking for an easy alternative that packs a big protein punch without obliterating your daily carb macro, MAX'S SuperShred low carb protein bars tick all the boxes.
They are the ideal high protein snack or meal replacer for serious trainers and strength athletes who want to build a lean, ripped and muscular body. Each bar contains around 22g of high quality protein for building and maintaining lean muscle, potent carb blockers including Green Coffee Extract and Phaseolamin, plus Carnitine to help burn fat. Keep a few SuperShred bars in your gym bag or in your desk draw so you'll never be caught short for a quality protein hit without high carbs.
MAX'S proudly displays every ingredient in our protein bars
You have every right to know exactly what you're munching down, which is why we have made sure to display all of the ingredients found in each of our bars as clear as day. Say goodbye to the other products out there that don't quite give you all of the details – ours are all listed right there for you to read so you can feel confident with every bite.
NUTRITIONAL INFORMATION
SERVING SIZE: 60g | SERVING PER PACK: 1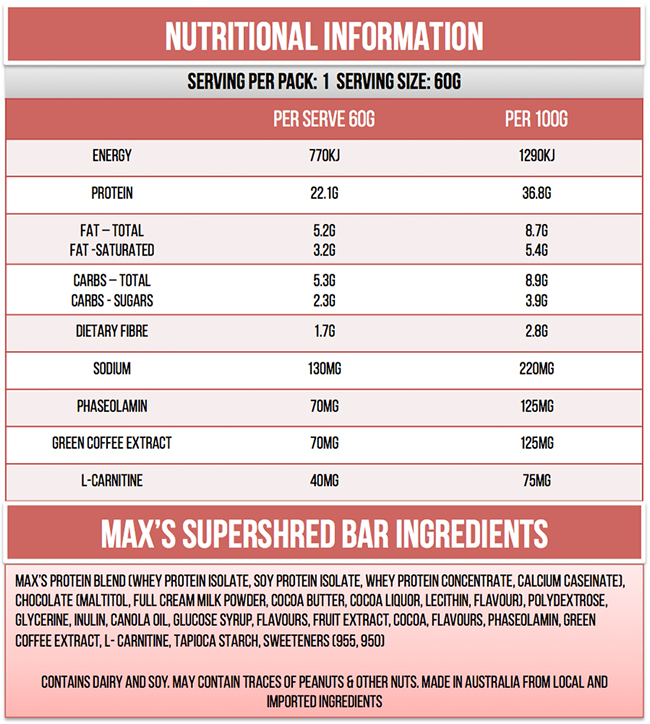 Customers who bought this product also bought: