Scientifically formulated to support your metabolism, energy needs, cognitive function, general health and wellbeing.
Athletic Safe. HASTA banned substance tested for purity.
Listed medicine, manufactured in a TGA licenced GMP facility.
Made in Australia by Aussie families.
Full label disclosure.
2 x scoop clinically researched dose.
Metabolism & Energy
Caffeine (Caffeine anhydrous, green tea & guarana). Increase mental alertness and wakefulness. Reduce mental fatigue.
Iodine Maintain/support body metabolism and metabolic rate. Maintain/support energy production and thermogenesis.
Sugar Metabolism
Chromium Helps glucose, sugar and carbohydrate metabolism.
Cognitive Function
Caffeine (Caffeine anhydrous, green tea & guarana) Maintain and support mental concentration, focus and clarity. Maintain and support brain function.
Reduce cognitive fatigue. Iodine Supports cognitive function. Supports mental function.
Tyrosine and Vitamin C Helps synthesis of neurotransmitters.
Thyroid
Iodine Supports thyroid gland function. Supports healthy thyroid hormones. Support thyroid hormone production
General Health & Wellbeing
Vitamin C Antioxidant. Reduces free radicals in the body. Supports blood capillary and vessel health. Supports immune system health and function. Maintain support nervous system function.
Chromium, Iodine, Tyrosine and Vitamin C Support general health and wellbeing.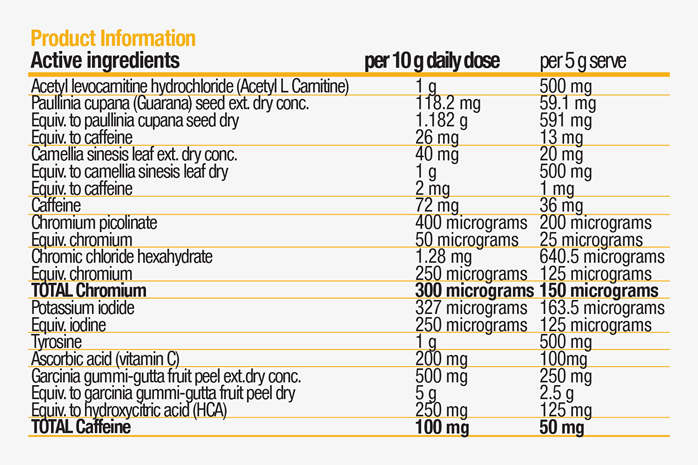 Customers who bought this product also bought: