Crea Burn by Maxine's has a combination of ingredients designed to support power, performance and energy during workouts. This high potency supplement will help you achieve anything you put your mind into it.
With the combination of 3 types of creatine, you will boost your performance when exercising so you can get to your goals. Having the appropriate diet and exercise plan is also crucial to achieving your fitness and health targets.
The combination of a thermogenic matrix in this supplement will give you the boost of energy to support calorie processing. Set your goals high and give all you have to get to where you want to be.  
When you have Crea Burn by Maxine's, you'll:
Support energy requirements naturally
Support power and performance during workouts
Support body composition goals
When it comes to achieving your fitness, and health goals leave nothing in the tank. Get your hands on Crea Burn by Maxine's today and achieve the unachievable.
Each serve (1 level scoop/approx..10g) of Crea Burn by Maxine's has:
4.6g of protein
Zero fat
2.5g of carbohydrates
0.1g of sugar
50mg of caffeine
3830mg of creatine powder blend
750mg of endurance amplifying blend
850mg of Lipophase® Thermogenic fat burning matrix
No gluten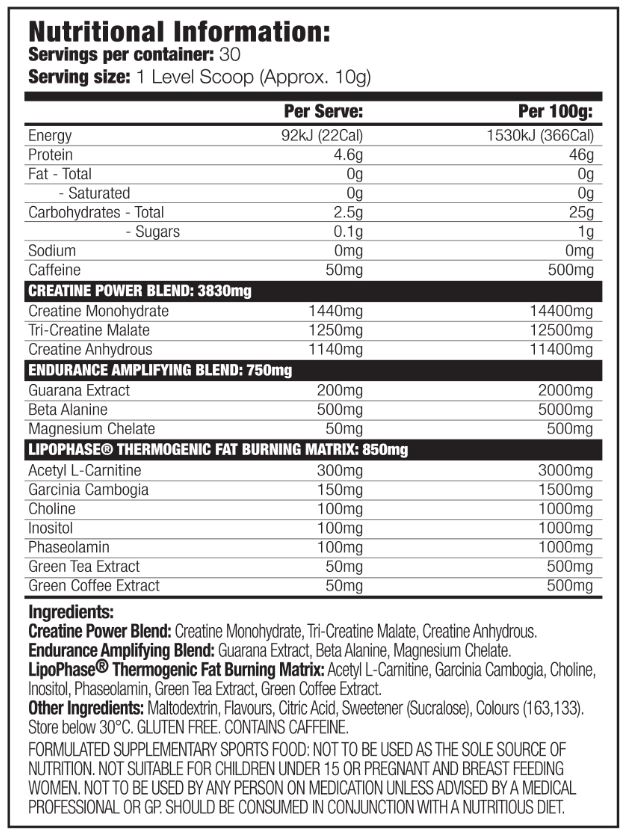 Customers who bought this product also bought: