Testosterone Boosting Formula
750mg D-Aspartic Acid
100mg Laxogenin
250mg Bulbine Natalensis
THE GEAR - JACK'D is the next evolution of our original best selling Testosterone Booster. In this new formula we've increased the strength of the key anabolic components, while adding a few special ingredients that will send your muscle building system into overdrive! This potent formula will spike your system levels of Free Testosterone and thanks to proven aromatase inhibitors, will keep your T levels elevated for hours to maximise protein synthesis and muscle growth. With 15% more active ingredients, including D-AA and 5A Hydroxy Laxogenin, this is the most potent natural Test Booster currently available!
Potent Botanical Compounds Maximise Free Testosterone.
Aromatse Inhibitors stop free Testosterone breakdown
Increased T Levels and HGH
Faster gains in Size, Strength and Power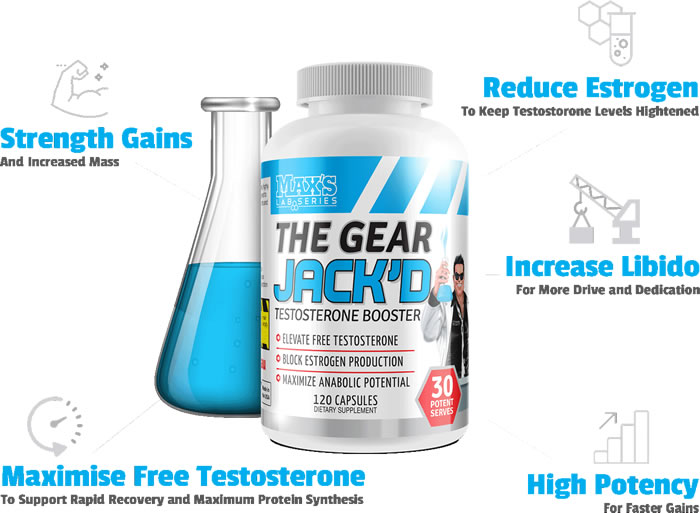 How To Take THE GEAR – JACK'D
1 Serving Per Day
Take 2 Capsule twice daily with main meals. Not within 2 hours of bed. Do not consume on an empty stomach. THE GEAR JACK'D is a highly potent formula, use only as recommended.
Who Should Take THE GEAR – JACK'D
MAX'S THE GEAR JACK'D is recommended for all male trainers looking to increase muscular size and strength, or simply maintain their hard earned muscle while on a calorie restricted diet. It is also ideal for any male looking to increase a feeling of vitality.
Q. Are testosterone boosters safe? If used correctly, testosterone supplements are very safe and effective. It is our recommendation to always stick to the dosage stated on the label and consult a health care professional should you have any prior medical conditions.
Q. Are testosterone boosters just for bodybuilders or can other athletes benefit from them also?
Testosterone boosters can be of use to all athletes looking to increase strength, speed, and muscle mass.
Q. Can I take The Gear on an empty stomach?
The ingredients used in The Gear are very potent and can cause some stomach issues if taken on an empty stomach. We always recommend taking each serve with food. For your morning dose take with breakfast. For your pre-workout dose, take with an afternoon snack like fruit, a protein shake or a protein bar. This ensures an even digestion and absorption and will give you the best results.
Q. Should I cycle on and off The Gear?
We generally recommend you should go on The Gear for about 4 - 6 weeks, then off for 2 weeks before starting a new cycle. This will allow your body's natural testosterone metabolism to return to normal and allow your adrenal system to also normalize. Because The Gear contains potent Estrogen blocking agents it protects your system from unwanted side effects that you may get in some Test boosters.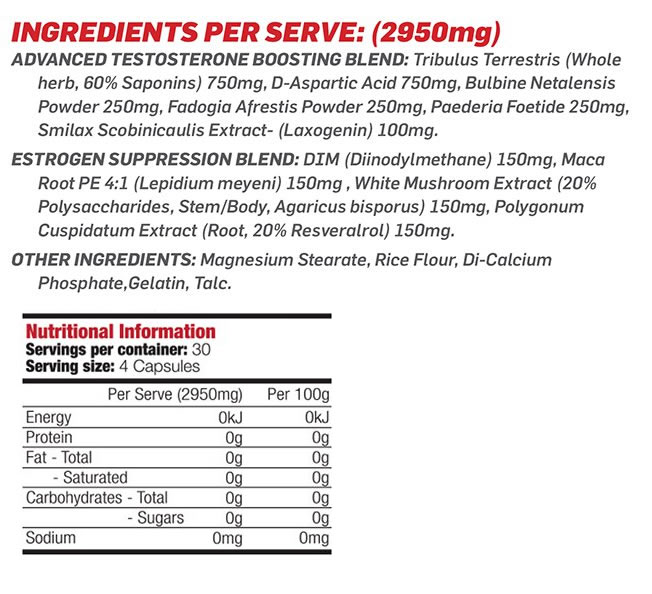 Customers who bought this product also bought: