MASS-TECH EXTREME 2000
• Scientifically superior formula builds more size & strength
• 100% whey protein – zero inferior protein sources
• Ultimate mass gainer formula with proven musclebuilding ingredients
BULK • PACK • GROW WITH THE MOST EXTREME MASS GAINER EVER
The ULTIMATE 100% WHEY PROTEIN+ MASS GAINER
Let's face it – size is king! Nothing tells people that you're a bodybuilder more than a hulking frame complete with wide shoulders, big arms, a powerful chest and back, and a set of tree-trunk legs. Bodybuilders, powerlifters and weightlifters alike are always looking for a supplement to help them blow the doors off the size game. Whether you're stuck in a frustrating growth plateau or just have a hard time packing on mass, you now have help breaking through your roadblock. It's called MASS-TECH® EXTREME 2000!
Team MuscleTech® researchers have engineered a brand-new, 5-in-1, hardcore mass gainer designed for individuals looking to put on an extreme amount of mass. MASS-TECH EXTREME 2000 features 80g of protein, over 400g of carbs and 2,000 mass-producing calories, plus 8g of L-leucine (when mixed with 16 oz. of skim milk), 10g of creatine, and 20 vitamins and minerals. The ideal macronutrient profile in MASS-TECH EXTREME 2000 is perfect for bodybuilders and other athletes who are looking to build muscle and increase strength without adding extra fat to their physique. Reap the rewards of all your hard work in the gym – MASS-TECH EXTREME 2000 has everything you need to bulk up, pack on muscle, smash through strength plateaus and make the kind of mass gains you've never experienced before!
How MASS-TECH EXTREME 2000 Works
1. 100% Whey High-Protein Shake
MASS-TECH® EXTREME 2000 delivers more protein per serving than most other mass gainers available on the market. With a whopping 80g of premium protein (when mixed with 16 oz. of skim milk), your body will have all the building blocks it needs to build the size and muscle you're looking for.
In addition, unlike many other mass gainer formulas, MASS-TECH EXTREME 2000 contains only high-quality, milk-derived protein sources with the highest biological value.
2. Delivers a Multi-Phase Carbohydrate Complex
MASS-TECH® EXTREME 2000 supplies over 400g of carbohydrates (when mixed with 16 oz. of skim milk) through a multi-phase carb complex to spike your insulin levels and promote muscle glycogen replenishment. This will help creatine reach your muscles and put your body in an extreme anabolic state.
3. Provides High-Density, Clean Calories
The new, scientifically superior MASS-TECH® EXTREME 2000 formula delivers a massive 2,000 calories (when mixed with 16 oz. of skim milk) and delivers high-quality whey protein and easy-to-digest complex carbohydrates.
In a university study, subjects consuming 2,000 calories in addition to a high-protein diet and a weightlifting program gained 6.8 lbs. of mass (vs. 1.3 lbs. in the control group). This formula is so powerful you only need one serving a day!
4. Provides HPLC-Tested Creatine Monohydrate
Unlike our competitors that contain little to no creatine, MASS-TECH® EXTREME 2000 contains a clinically validated 10g dose of creatine to help you increase strength and regenerate ATP stores that are reduced during resistance training. In a human clinical study, subjects gained 6 lbs. in just 6 weeks while using the same creatine dose found in MASS-TECH EXTREME 2000.
5. Contains High-Potency Branched Chain Amino Acids
Each serving of MASS-TECH® EXTREME 2000 (when mixed with 16 oz. of skim milk) delivers 17.2g of BCAAs including 8g of musclebuilding L-leucine. L-leucine is a powerful nutrient signaler that enhances mTOR activation and causes amplified protein synthesis. In a clinical study, L-leucine was shown to help subjects increase their 5-rep max strength by over 40% in just 12 weeks. What's more, when mixed with 16 oz. of skim milk you get 13.8g of L-glutamine and precursor to support muscle recovery. You won't find this amount of aminos in any other mass gainer on the market!
Based on Research at a Leading American University
In an 8-week study, subjects consuming a high-protein diet containing approximately 2,300 calories and performing a weightlifting program added 2,000 calories to their regimen. The results were examined and, on average, subjects gained 6.8 lbs. of mass while control subjects gained 1.3 lbs.
Multi-Phase Filtration Technology
MASS-TECH® EXTREME 2000 features whey protein, whey protein isolate 97%, whey protein isolate and hydrolyzed whey protein isolate, providing a rapidly absorbed, high biological value protein that your body can easily assimilate to build some seriously impressive muscle.
The whey protein in MASS-TECH EXTREME 2000 has been filtered using Multi-Phase Filtration Technology for less fat, lactose and impurities than cheaper protein sources. Furthermore, MASS-TECH EXTREME 2000 is manufactured according to cGMP standards, as is required for all dietary supplements to ensure quality and integrity.
Ultra-Clean Formula with Best-in-Class Taste
Team MuscleTech® researchers work closely with some of the top protein flavoring professionals in the world, and each flavor or MASS-TECH® EXTREME 2000 is painstakingly tested in internal taste tests. The result is a great-tasting formula that you'll look forward to drinking again and again!
Tested for Quality and Purity
To ensure a high standard of quality and purity, the whey protein in MASS-TECH® EXTREME 2000 has been filtered using multi-phase filtration technology. Each batch of MASS-TECH EXTREME 2000 undergoes strict quality control and is third-party lab tested and verified to ensure that each bottle meets the highest standards of purity, quality and consistency.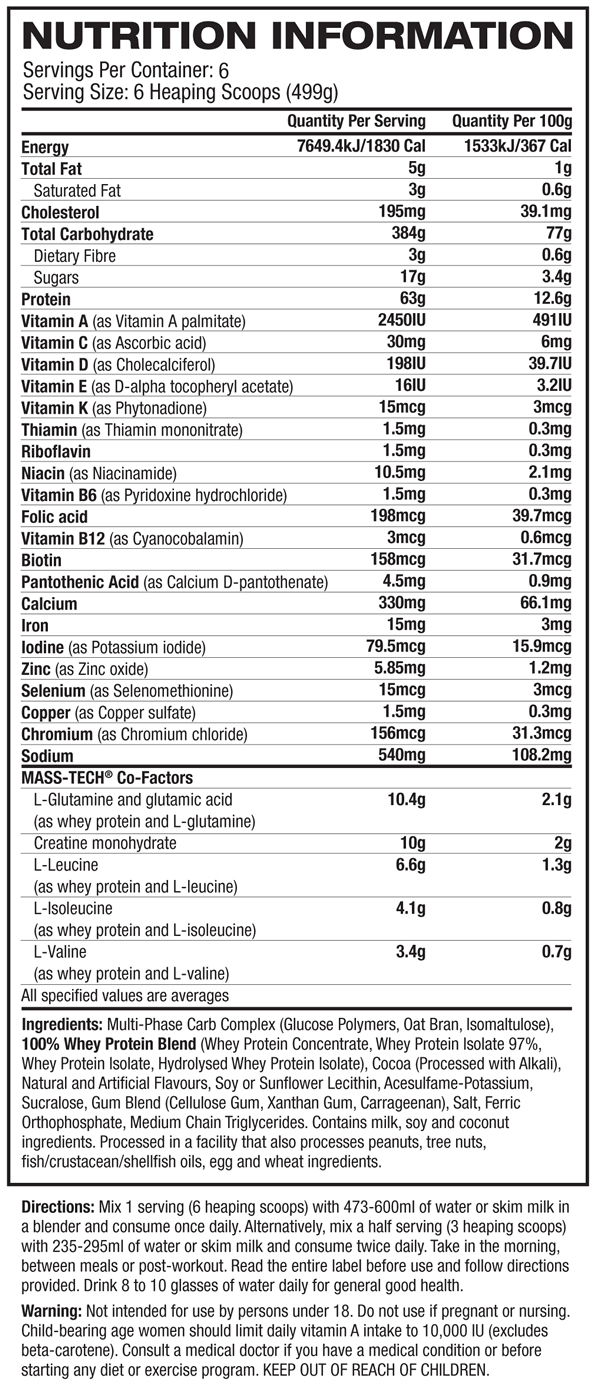 Customers who bought this product also bought: