Body Science (BSc) Triandrobol Test - Scientifically Formulated
If you're looking to fight back against the natural decline of testosterone levels – then you need Triandrobol Test. This non-hormonal formulation has been scientifically formulated to help naturally boost testosterone levels, strength and endurance, as well as libido. Utilising extensively researched ingredients at their optimal dosage, Body Science Triandrobol Test contains a combination of herbs, amino acids and vitamins designed to increase levels of bioavailable testosterone in the body, in order to increase testosterone levels. Packed with 80,000mg of Tribulus Terrestirs and 640mg of Protodioscin per daily dose, it's one of the most potent formulations on the market. This is combined with Fenugreek Seed Extract, Horny Goat Weed, Aspartic Acid, Boron, a ZMA complex and Vitamin K 12. This mixture of herbals and nutrients has been carefully chosen for the synergistic effects. Each active ingredient supports the other, making the body's response quick and noticeable.
Designed to trigger an anabolic response, these potent ingredients work in collaboration to achieve a range of alpha-boosting effects, particularly increased energy, stamina, focus and power. Increased levels in the body result in an increase of sexual desire, enhanced sexual performance and function, as well as improved exercise performance and muscle capacity. Body Science Triandrobol Test is listed on the Australian Register of Therapeutic Goods and regulated by the TGA. This means that you can be sure that the claims being made about this product and its effectiveness are accurate, that it is of high quality and that it only contains approved ingredients – so that you can supplement with confidence!
Tribulus – A flowering plant native to the tropical regions. It's traditionally used in the Ayurvedic medicine as an aphrodisiac - to maintain healthy male sexual function and physiology. As well as, a tonic to strengthen and enliven the body, boost energy and promote wellbeing. Tribulus is also commonly used to help improve physical performance in athletes and increase the work capacity of muscles.
Fenugreek – A clinical trial showed it to have a significant, positive effect on the physiological aspects of libido and also help maintain normal, healthy testosterone levels. When combined with resistance training, Fenugreek helps improve exercise performance, stamina, endurance, strength gains and reduce body fat.
Horny Goat Weed – Traditionally used in eastern medicine, it is widely used by men to enhance sexual arousal and performance. It contains chemicals which may help increase blood flow.
Aspartic acid – A physiological amino acid occurring principally in the pituitary gland and testes. It plays a role in the regulation of the release and synthesis of testosterone in humans, and has been shown to enhance the release of testosterone in healthy males.
Boron – A trace mineral that possesses many properties in biochemistry and nutrition. It has been reported to increase free testosterone levels following consumption, and is widely as an aid for building muscles and increasing testosterone levels.
Vitamin K2 – Preliminary studies suggest that Vitamin K may help alleviate reductions in testosterone levels, maintain steady levels of testosterone and stimulate testosterone production.
Zinc, Magneisum and Vitamin B6 – This combination together has been reported to increase total and free testosterone levels and enhance strength and power.
Developed for someone looking for natural testosterone support – Body Science Triandrobol Test is an innovative testosterone boosting supplement loaded with high quality, therapeutic ingredients to help naturally increase testosterone levels in the body. Testosterone is the main hormone associated with muscle mass, strength gains and libido; so, if you're seeking bigger and stronger muscles, increased endurance and athletic performance, healthy testosterone levels are fundamental. Each 2 tablet serving is packed with scientifically backed ingredients at their optimal dosages, designed to help you perform at your best, in and out of the gym.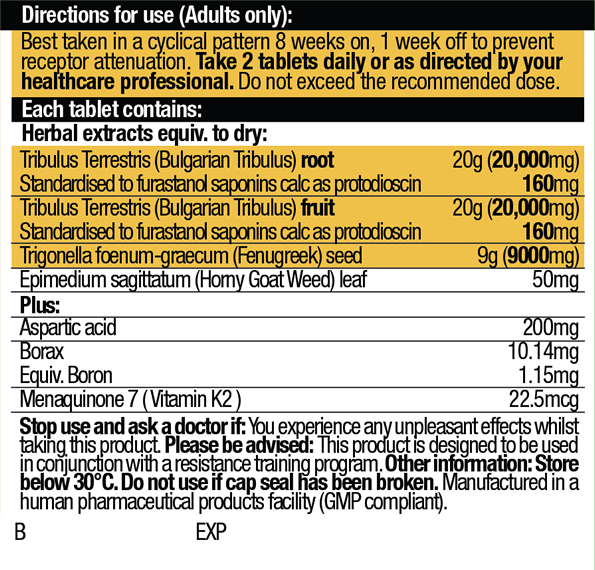 Customers who bought this product also bought: