Giant Sports Delicious Protein Elite contains some unexpected specifications, including the ideal ratio of premium components, outstanding macros, and incredible taste! Giant Sports Delicious Protein Elite is not a protein powder disguised as a high-carb meal replacement product. Giant Sports' goal is to prioritise you, the athlete. More protein, fewer carbohydrates, and less fat are the results. Maintaining an adequate food intake is important for maintaining and growing muscle in the body as we age because our ability to absorb protein declines. Protein is the building block of all development and function in our bodies. Giant Sports Delicious Protein Elite also has a multi-stage release of Micellar Casein, Calcium Caseinate, Whey Protein Hydrolysate, Whey Protein Concentrate, and Milk Protein Isolate. This complete protein combination not only provides the muscles with quickly absorbed amino acids, but also steadily releases nutrients over the course of eight hours.
Each serving contains 27 grammes of protein.
Perfect for day and night, a multi-stage blend of solely whole dairy proteins.
Delicious and simple to combine.
only 4 grams of carbs and 2 grams of fat.
NO GLUTEN OR ADDED SUGARS - Safe for diabetics and those with celiac disease.
An excellent texture that mixes quickly and sets a new bar for both taste and texture.
Get your hands on something that has a superior macro-nutrient profile and not only tastes good since leaving your protein intake to chance is a certain way to put yourself up for failure. Giant Sports Delicious Protein is the most adaptable protein powder, ideal for post-workout, cooking, meal replacements, and before bed. It is low in carbs and fat and boosted with additional BCAAs to support muscle repair.
Suggested Use: Add 1-2 scoops to 6-16 oz of cold water or your favourite beverage.  Shake for 10-15 seconds.  Drink 1-4 servings per day depending on your personal protein requirements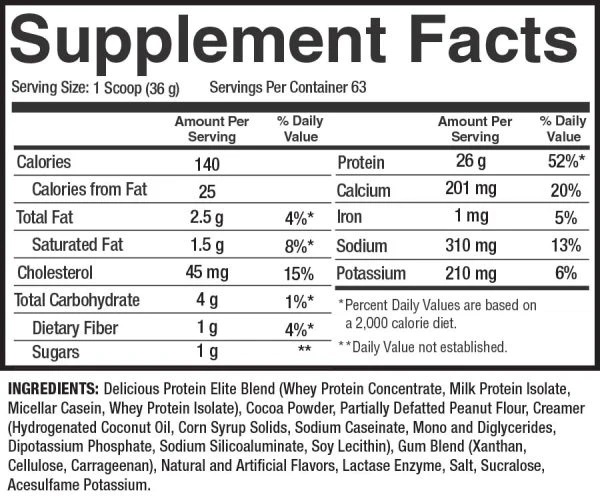 Customers who bought this product also bought: