Are you trying to find a collagen supplement that provides additional essential minerals and vitamins for that inner glow? And welcome to OxyGlow Marine Collagen from EHP Labs, a company with a renowned brand worldwide.
Features
Hydrolyzed fish collagen
Supplements that improve internal health.
Lessen the amount of time needed to recover after working out.
Support for maintaining muscle mass for workout performance.
Both flavourless and odourless.
Suitable for both sexes.
Benefits
You have everything you need to reflect your best self with EHP Labs OxyGlow Marine Collagen, as radiant health starts on the inside. Did you know that the most prevalent protein in your body, collagen, helps to maintain healthy skin, hair, nails, and joints? Since our mid-20s, collagen production has been declining by 1.5–2% annually, leading to less elastic skin, brittle hair, and nails, as well as an increase in the visibility of fine lines.
Though OxyGlow Marine Collagen is here to add light to the ageing process, it's not all doom and gloom. Enjoy the beauty of these healthy components: The best collagen support for both internal and external health includes hydrolyzed fish collagen, vitamins C, D3, B12, A, and K1. You may easily add a serving of OxyGlow Marine Collagen to your favourite beverage at any time of day because it has no taste or odour.
Who should take Oxyglow?
Collagen peptides provide exceptional functionality for people who wish to stay healthy and active for the duration of their lives. These benefits for health, wellbeing, and attractiveness have been scientifically verified. We developed Oxyglow to offer our community a collagen supplement with vitamins added so they could take advantage of these advantages and further their path towards holistic health and wellness.
What distinguishes Oxyglow from other collagen boosters?
With a broad range of collagen-enhancing vitamins and highly bioavailable marine collagen, Oxyglow sets itself apart from other collagen powders to produce skin that is smooth, firm, and plump. Your hair will be stronger than ever before, your nails will be growing, and your skin will be radiant. Additionally, Oxyglow incorporates marine collagen made from fish peptides derived from 100% discardable fish skin and scales, making the product's supply sustainable.
What ingredients are contained in Oxyglow?
Marine Collagen: Made from fish peptides that have been hydrolyzed for optimal absorption, this natural marine collagen is sustainably obtained. Additionally, it is over 97% protein, carbohydrate, and fat-free to assist you in enhancing your diet's protein intake.
Vitamin B: essential for the body's cells, particularly skin cells, to reproduce. It is well known to lessen dryness and irritation of skin cells.
Vitamin C: is an antioxidant that promotes collagen production, combats free radicals, aids in skin regeneration naturally, minimises wrinkles, and improves uneven or dull skin tone.
The antioxidant effects of vitamin D3 aid in preventing early skin ageing.
Vitamin A: is necessary for healthy, strong, firm skin. By activating skin cells, it helps with acne outbreaks, UV damage, and reduces ageing while giving a healthy, bright complexion.
Vitamin K: has wound-healing and collagen-promoting effects that support a smoother, more youthful glow.
Where is Oxyglow produced?
From North America, OxyGlow Marine Fish Collagen is sourced ethically.
Summary
What more could you ask for from a vitamin-rich collagen supplement than to help with the ageing process, exercise recovery, and muscle maintenance? Try OxyGlow Marine Collagen from EHP Labs, which is appropriate for both men and women, to see for yourself.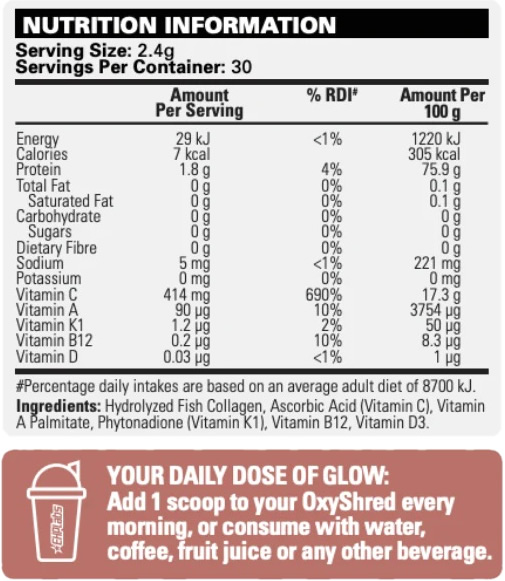 Customers who bought this product also bought: