If you're training hard, chances are, you're looking after your nutrition as well. But even yet, it's easy to let some nutrients fall through the cracks. Whether due to food preferences, or simply being too busy to ensure you get in enough variety, it's all too easy to fall short on key nutrients that can make a difference on your growth and development, not to mention your performance.
Enter Animal Pak by Universal Nutrition. This product will give you the peace of mind in knowing that you're completely covered while also maximising your gym performance at the same time. It's a step above a typical multi-vitamin/mineral formula – it's a step towards greatness.
When you start using Animal Pak by Universal Nutrition, you'll notice:
Improved and longer lasting energy levels. No more hitting that sluggish state hours before you have to hit the gym and wondering how you'll ever do the work you know needs to be done
Optimised hormonal levels. Many key micronutrients go into making sure that your testosterone level is optimised, so you won't want to fall short.
Improved rates of mass building. With the right vitamins and minerals in place, your body will want to build more muscle quickly.
Improved focus and concentration. Your brain feeds of the micronutrients you eat as well and will surely notice when you are falling short.
Improved antioxidant support to help combat the free radical damage that may be occurring in the body.
Improved rates of fat burning thanks to the addition of key performance enhancing nutrients.
Better sleep quality thanks to your body being well nourished during the day and able to get into the deep sleep needed
Enhanced digestion so you can do away with gas, bloating or stomach upset after eating certain types of foods
Animal Pak by Universal Nutrition is clinically designed to help give your body just what it needs and go along with a healthy diet plan. On those days where you just can't get what you need in through food, know that you are well covered.
In every serving of Animal Pak by Universal Nutrition, you'll get:
198% of your vitamin A needs
50% of your vitamin D needs, which are important for optimising testosterone
100% of your vitamin B12 needs to help support maximum energy
200% of your zinc needs to keep testosterone levels elevated
100 mg of Bromelain to provide digestive support
25 mg of Carnitine to help boost fat burning inside the body
No matter where you are in your training path or what diet you happen to be on, you'll want to be extra sure that you are well covered. Let Animal Pak by Universal Nutrition do the work for you.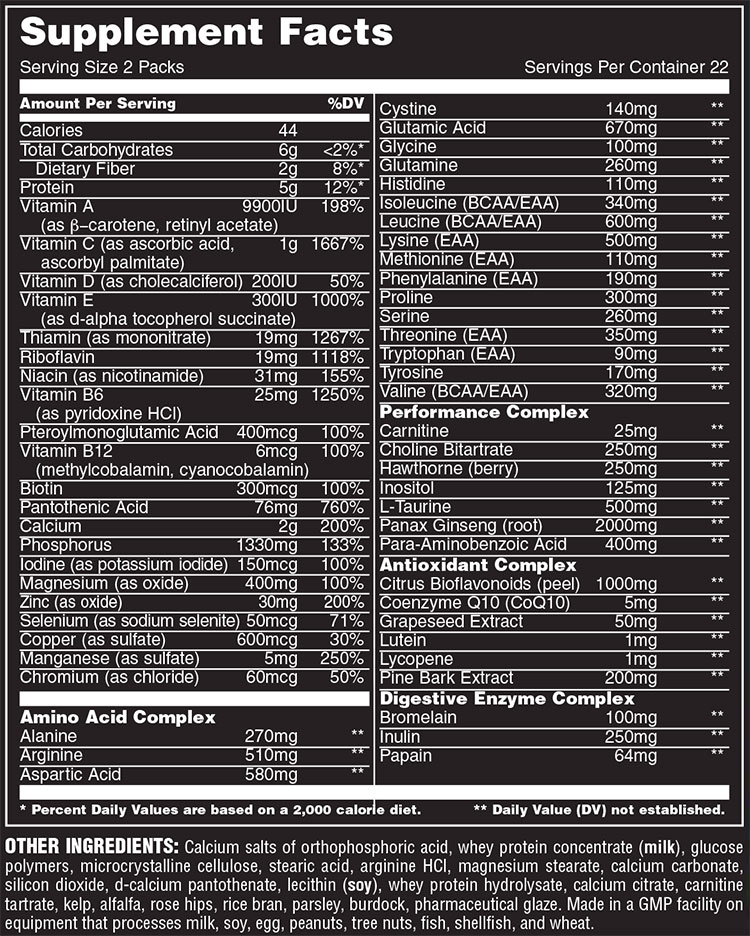 Customers who bought this product also bought: