P2P (Power to Perform) by GEN-TEC NUTRITION is a cutting-edge intra-workout supplement created for bodybuilders and strength training athletes. The synergistic combination of creatine monohydrate, amino acids, and carbs is perfect for people who want to gain lean muscle mass and more strength. P2P is the best option for people who want to lessen catabolism (muscle breakdown) and enhance recovery due to the cortisol-suppressing properties of carbs and certain amino acids.

Consuming P2P while exercising provides the working muscles with all of the necessary nutrients at this important moment to enhance your potential and give you the Power to Perform because it also contains extra electrolytes.
INGREDIENTS: Maltodextrin, Creatine Monohydrate (as Creapure®), Fructose, Anticaking Agent (551), L-Glutamine, L-Leucine, Glycine, Dextrose, L-Arginine Alpha-Ketoglutarate, L-Citrulline DL-Malate, Food Acid (Citric Acid), Flavours, L-Lysine Hydrochloride, L-Isoleucine, L-Valine, Sodium Chloride, Vitamin C (as Ascorbic Acid), Sweetener (Sucralose), Potassium Citrate, Magnesium Citrate, Calcium Carbonate, Colour (129), Chromium Polynicotinate. 
May contain Milk, Egg, Soy due to product manufactured on the equipment that produces products containing these allergens.
Creapure® as a trademark (Word) and as a quality seal a registered trademark of Alzchem Trostberg GmbH. 
FORMULATED SUPPLEMENTARY SPORTS FOOD: This product is not to be used as a sole source of nutrition. It must be used in conjunction with a balanced diet and a suitable physical training or exercise program.
NOT SUITABLE FOR CHILDREN UNDER 15 YEARS OF AGE OR PREGNANT WOMEN: SHOULD ONLY BE USED UNDER MEDICAL OR DIETETIC SUPERVISION.
SUGGESTED USE: Mix 30g (1 scoop) in 350mL of water and consume DURING exercise. Do not exceed 1 serving per day. Store in a cool, dark place.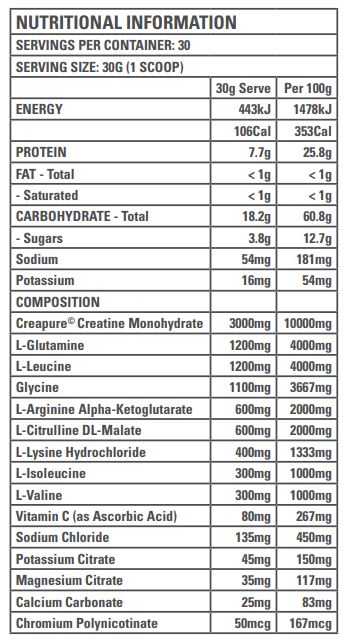 Customers who bought this product also bought: