Dreaming of gorgeous skin and lush hair? I'd like to introduce you to Super Collagen Protein by Obvi, a collagen supplement that promotes stronger joints, skin, hair, and nails. To maximise collagen absorption, this collagen protein is also filled with important vitamins and minerals.
In addition to 10g of hydrolyzed grass-fed bovine collagen peptides, Super Collagen Protein by Obvi also includes a mix of vitamins C, E, calcium, magnesium, and iron. You will have all you need from this blend to have beautiful skin, thick hair, a healthy gut, and stronger nails and joints.
As we age, collagen production naturally decreases, which can lead to weak and brittle hair, skin, and nails. With this Super Collagen Protein, which contains the best quality hydrolyzed collagen from grass-fed cattle, Obvi has come to the rescue.
This form of collagen contains type 1 and type 3 collagen, which are well-known for their advantages for bones, tendons, muscles, ligaments, hair, skin, and hair growth. In order to prevent the early symptoms of collagen shortage, Supper Collagen Protein by Obvi contains 10g of this form of collagen.
Having Super Collagen Protein from Obvi gives you:
Support healthy skin, and get ready to step up your selfie skills.
Support thick, gorgeous, and delicious hair every day.
Bolstering sturdy nails Bid adieu to weak and brittle nails.
Promoting gut health will lead to a healthy digestive system.
Joint support, increased flexibility generally, and pain relief for painful joints. Have a keto-friendly product on hand.
You need look no further than Super Collagen Protein from Obvi for radiant skin, strong nails, and joints. You may shine from the inside out with the help of this collagen protein supplement.
Each serving(1 scoop) of Super Collagen Protein by Obvi has:
31 calories
10g of protein
10g of Hydrolysed Grass-fed Bovine Collagen Peptides
Magnesium Citrate
Calcium Carbonate
Ascorbic Acid
D-alpha-tocopherol
Ferrous Fumarate
No dairy, gluten, or GMOs
Directions of use
As a dietary supplement, add 1 scoop into your favourite beverage or meal once daily and mix thoroughly. For enjoying in cold beverages, first mix in room temperature liquid, then add ice to avoid clumping.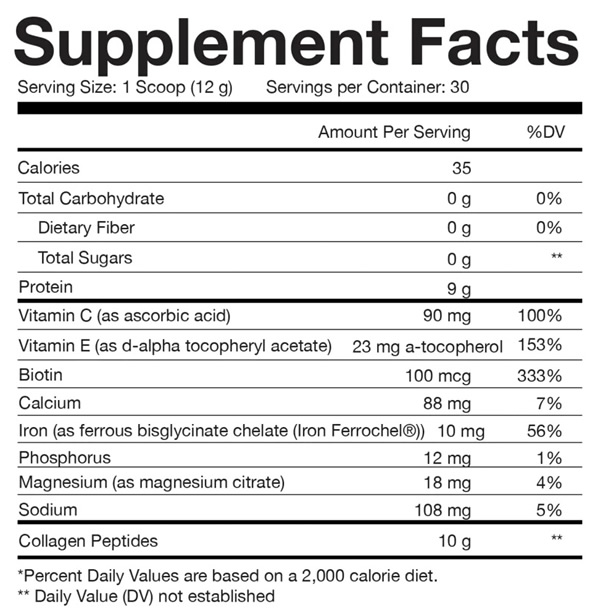 Customers who bought this product also bought: