Banned substance free
High energy calories
Promotes weight gain
Promotes prolonged muscle growth
Promotes gains


It's no secret that more often than not, our bodies simply cannot consume the sheer amount of food required to see the gains we're after. Yet, thanks to International Protein's Heavy Weight Mass Gainer, it's now easier than ever before to pack down those extra calories, with considerable gains to show for it. Containing a multi-phase protein release blend and unique grain matrix to keep your body in a growth-friendly state for longer and to support even the fastest hard-gainer metabolisms to encourage optimal weight gain, Heavy Weight Mass Gainer is an incredibly concentrated, energy-rich, protein-packed formula designed to promote real, sustainable gains.
HOW TO TAKE?
Mix 220g (6 SCOOPS) with 400-500ml of skim milk
Consume either in the morning, between meals or post-workout
Can be taken as two half serves during the day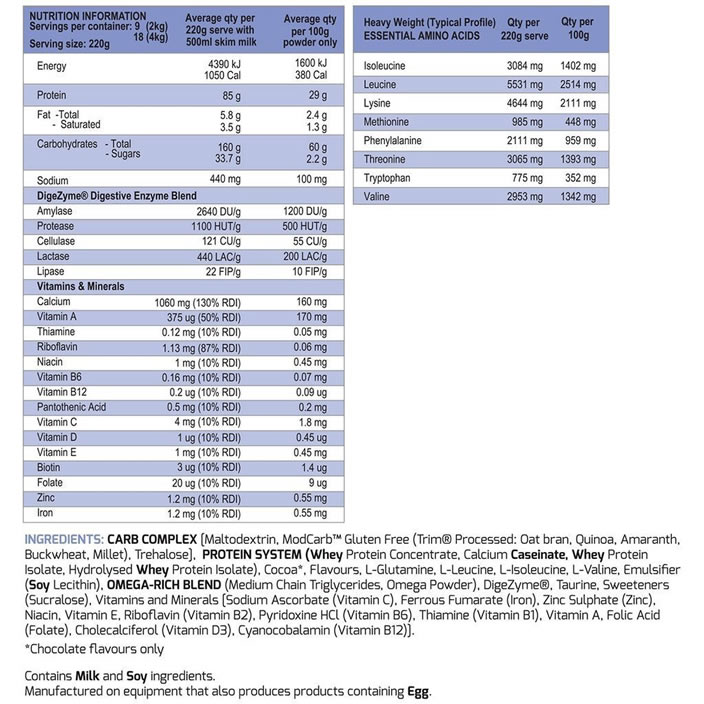 Customers who bought this product also bought: