Gen-Tec L-Taurine
An amino sulfonic acid called taurine serves as a conditionally necessary amino acid for people. Taurine is a mysterious and special amino acid that has the ability to significantly improve mental alertness, performance, and health. Although the precise mechanisms underlying taurine's actions are still unknown, the evidence from human and animal model trials suggests that taurine has the potential to be an efficient ergogenic-related amino acid that can support skeletal muscle function and reduce oxidative stress in the central nervous system.
Advantages of taking L-Taurine
Eye health: To sustain the retina, taurine is present in high concentrations throughout the body.
Gall bladder support: Bile salt conjugation (production) to help with fat digestion.
Cell development: Taurine is 4-5 times higher in developing brains than adult brains.
Neuroprotection and regulation: Gamma-aminobutyric acid, or GABA, which functions to inhibit over-excitation of neurones and anxiety, is thought to have similar activity and metabolism to taurine, which is hypothesised to act similarly to a neurotransmitter.
Mitochondrial support: Anti-oxidation and oxidative function enable efficient ATP synthesis in neural cells.
Cell protection: Through cell calcium homoeostasis, membrane stabilisation, osmoregulation, and mitochondrial activity, taurine exhibits a variety of cytoprotective (cell-protecting) properties.
Boost lipid metabolism: Taurine seems to improve the use of fatty acids both during exercise and during rest.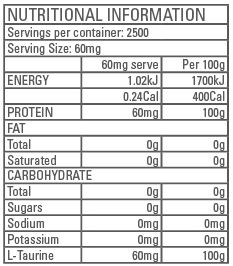 Customers who bought this product also bought: