Gen-Tec Arginine AKG (AAKG) Gen-Tec sources, blends, and packages powdered Arginine Alpha Ketogluterate (Arginine AKG), which is of pharmaceutical grade. Supplementing with arginine alpha ketogluterate is recommended for people who want to raise their endogenous nitric oxide levels. For people who engage in intense exercise, arginine is a conditionally necessary amino acid because it promotes the body's natural creation of creatine phosphate. When consumed often prior to exercise, arginine helps the body produce more nitric oxide, which promotes the supply of nutrients and blood to working muscles. Arginine AKG from Gen-Tec has the following advantages:
Blood flow to active muscles is supported.
Enhanced endurance.
Enhance muscular recovery after workout.
For improved performance and pumping, this powerful supplement boosts muscle mass while cutting down on recuperation time. L-arginine is a semi-essential amino acid that is used to make nitric oxide and is a component of proteins. Nitric oxide is a signaling molecule required for a number of vital body processes, including the regulation of blood flow, mitochondrial function, and cellular communication. Additionally, it instructs muscle cells to boost growth hormone secretion and advance fat metabolism. With Gen-Arginine Tec's AKG, you can quickly recover and get the pumps you deserve.
SUGGESTED USE: Mix 1g (1/4 tsp) of ARGININE AKG in 150mL water and consume 20 minutes before exercise. Store in a cool, dry, dark place.
INGREDIENTS: Pharmaceutical grade ARGININE ALPHA KETOGLUTERATE.
May contain traces of milk, soybeans, cereals containing gluten, tree nuts, sesame seeds and their products.
DISCLAIMER: Formulated Supplementary Sports Food. This product is not a sole source of nutrition and should be consumed in conjunction with a nutritious diet and an appropriate physical training or exercise program. Not suitable for children under 15 years of age or pregnant women. Should only be used under medical or dietetic supervision.
Made in Australia from local and imported ingredients.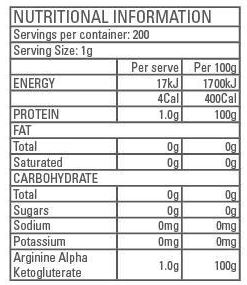 Customers who bought this product also bought: