Casein Milk Protein from GEN-TEC NUTRITION is arguably of the greatest quality available anywhere in the world, and it comes solely from New Zealand. Having a significant number of Branch Chain Amino Acids as well as L-Glutamine Precursors The CASEIN PROTEIN CUSTARD has an amino acid profile that is perfect for bodybuilders and strength training athletes who want to improve their recovery while also boosting their percentage of lean muscle mass. Since it digests at a much more relaxed pace than whey protein, the premium slow digesting protein is ideal for ingestion just before short periods of fasting, such as before going to bed.
A minimum of 35% immunoglobulin G is guaranteed to be present in each serving of CASEIN PROTEIN CUSTARD thanks to the use of therapeutic-grade colostrum. It has come to light that colostrum, and in particular immunoglobulin G, provides adults with a wide variety of health benefits, ranging from an improvement in digestion to an increase in their natural resistance to illness.
CASEIN PROTEIN CUSTARD is a delectable delicacy that may be utilised in the style of a dessert custard. It is the tastiest and most convenient way to provide your muscles with a steady and continuous release of Essential Amino Acids while you sleep.
INGREDIENTS: Casein, Skim milk powder, Emulsifier (soy lecithin), Flavour, Colostrum, Natural colour (caramelised sugar), Sweetener (sucralose).
SUGGESTED USE: Mix 60g (3 scoops) in 200mls of cold water or milk in a hand shaker for a smooth creamy dessert style custard.
Alternatively for a smooth creamy shake; Mix 60g (3 scoops) in 350mls of cold water in a hand shaker.
Contains milk, soybeans and their products. May contain traces of cereals containing gluten, tree nuts, sesame seeds and their products.
DISCLAIMER: 'Supplementary Sports Food'. Not suitable for children under the age of fifteen or pregnant women. This food should only be used under medical or dietetic supervision. This food is not a sole source of nutrition and should be used in conjunction with a sensible exercise and nutrition program.
FLAVOURS: Smooth Chocolate Custard, Smooth Banana Custard, Creme Caramel, Choc Honeycomb, Coconut Cream
SIZE: 908g/2lbs, 1.81kg/4lbs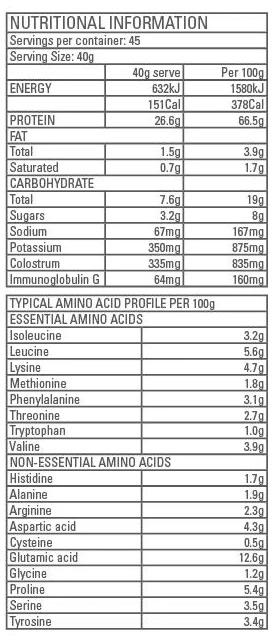 Customers who bought this product also bought: