Ripped and peeled pieces of universal animal cuts powder. This is the main focus of the show Animal Cuts. One scoop of Animal Cuts is like having an entire metabolic powerhouse in your hands. Each dose that has been meticulously prepared can assist you in ripping away the undesirable fat that has gathered throughout the mass-gaining off-season, so assisting you in revealing the dense, gritty muscle that lies behind. The extreme, all-in-one cutting stack is the one that goes above and beyond in the pursuit of getting shredded. If you want to be a freak and see the freakish body that you've worked so hard to achieve, then you need this stack.
Ripped and peeled to a pulp. You are aware of the situation. Coz cardio sucks. Animal Cuts, often known as the "fat-burning inferno in a pack," has been utilised for more than a decade in situations in which simply being slim wasn't sufficient. It is not an exaggeration to say that the Cuts formula is loaded with raw thermogenic firepower, potent metabolic optimizers, pro-thyroid nutrients, focus agents, cortisol and craving control, diuretics to drop subcutaneous water, and a bioavailability blend engineered to efficiently deliver all of these adipose-incinerating nutrients. Maintain a spotless kitchen, but get dirty in the weight room and put some serious effort into your exercise. Animal Cuts will finish up anything else for you.
Key Features
42 Serves
Multiple Flavours
Contains Diuretics
200mg of Caffeine
Contains 2 Forms of Carnitine
How much Caffeine is in Animal Cuts Powder?
Animal cuts powder Fat Burner contains 200mg of Caffeine for every serve. This is equivalent to 2-3 Standard cups of coffee which is perfect to be used as a higher energy Pre Workout, or just as a standalone Fat Burner.
Directions
For the best results possible for weight loss take Animal's Cuts Powder first thing in the morning with 300 - 400mL of water to kick start the metabolic process and give you a caffeine boost ready for the day, alternatively Animal's Cuts Powder can be used as a Pre Workout, taken 20 minutes prior to a workout session.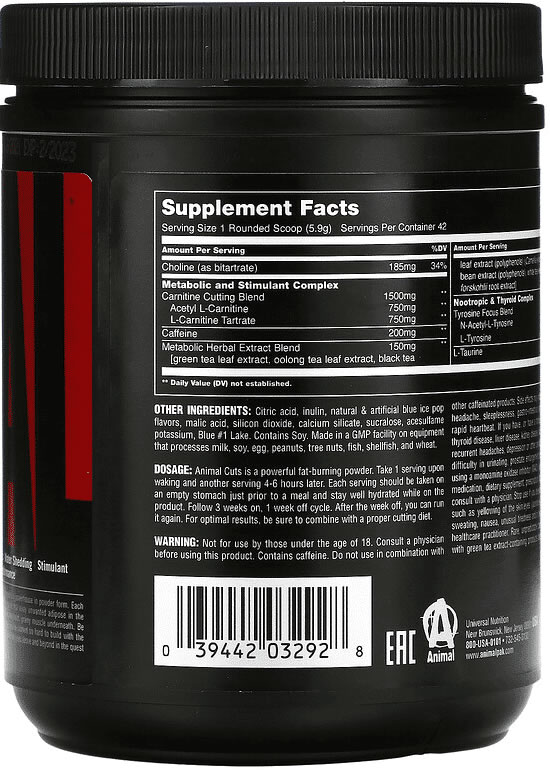 Customers who bought this product also bought: