Faction Labs stimulant free pump agent DISORDER® BULGE supports muscle function and energy production, improves memory, relieves fatigue and increases your muscle strength during high-intensity exercise. With Faction Labs DISORDER® BULGE, you may maximise your training without ever settling for what you are instead of what you could be.
Utilize Disorder Bulge by Faction Labs to maximise your workout. This effective vasodilator contains all the nutrients you need for the best pump! It has been precisely dosed with substances that have been supported by science to provide the muscle pump required for each session.
Since this vasodilator contains no stimulants, it is ideal for those who prefer to exercise late in the day or at night. Without the stimulants, you will still receive the pump and the endurance. For the ideal balance of focus, energy, and endurance, you can add Bulge to your prefered Disorder pre-workout if you do desire the stimulant.
For the finest outcomes both in and outside of the gym, maximise your training with this pump formula. Never settle for what you are instead of what you could be! Add Faction Labs' Disorder Bulge to your routine right away!
What advantages does Faction Labs' Disorder Bulge offer?
Encourage increased mental clarity and concentration
Maximum vasodilation and transport of nutrients
Aid in reducing fatigue
Supporting strength, stamina, and explosiveness
Support power for heavier lifts
Judiciously dosed for best effect
Can be used with your prefered Disorder pre-workout for the supreme pre-load
The essential components of Bulge will provide the strength required for heavier lifts while lowering muscle soreness so you can complete that additional rep. You can take two scoops of this supplement if you want a bigger and better pump.
What's in one serving (1 scoop) of Faction Labs' Disorder Bulge?
L-citrulline dosage: 3000 mg
Creatine monohydrate 2500 mg
1500 mg of 65% glycerol powder
Taurine 1500 mg
L-tyrosine 1500 mg
250 mg of vitamin C
250 milligrammes of pink Himalayan salt
potassium chloride 130 mg
Piperine extract, 1.50 mg
Directions
Mix 1 scoop in 400-500ml of cold water. Consume 15-20 minutes before training. Do not consume more than 1 serving per day. Store in a cool, dry place below 30°C. Do not expose to excessive heat or moisture.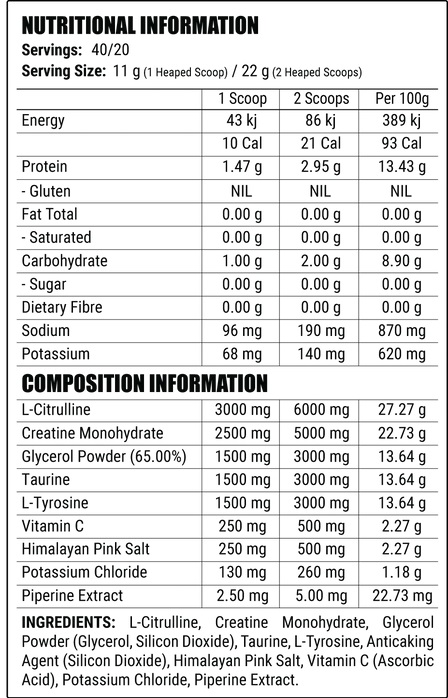 Warning: This product is not a sole source of nutrition and should be consumed in conjunction with a nutritious diet and an appropriate training or exercise program. Not suitable for children under 15 years of age or pregnant women: Should only be used under medical or dietetic supervision.

Customers who bought this product also bought: