M&M's™ Hi-Protein Powder - Chocolate (875g)
They've returned!! When you thought it couldn't get much better, Mars™ shocked us by offering many of our favourite chocolate candy bars with extra protein, as well as whey protein powders! M&M's Hi-Protein Chocolate Whey is the latest addition to that ever-expanding list! Let out your inner child, and don't even pretend this doesn't appeal to you! Allow your inner child to come out and eat this post-workout protein powerhouse!
We all enjoy a cheeky pack of M&M's or ten...BUT I think we can all agree that they don't really fit into our diets/lifestyles...BALANCE IS IMPORTANT...AND WE KNOW THIS...so the occasional bar is absolutely acceptable... BUT, what if we could have the AMAZING flavour of a pack of classic chocolate-filled multi-coloured candies...WITHOUT THE BAD!! M&M's Hi-Protein Powder, with over 21 grammes of protein per scoop and only 5g of carbohydrates, is the PERFECT way to satisfy those sneaky sweet cravings!!
This is going to be a hit for you if you're a sucker for the sweet stuff like we are....if you're an obsessive M&M fan!! That overwhelming super-sweet chocolate fragrance you get from M&M World (if you haven't, you're losing out) is the flavour you get from this thing! Consider a delicious cup of 'cocoa' (hot chocolate)! With each sip, let the M&M flavour reach its full potential! A characteristic of the authentic M&M chocolate flavour!! A LOT less sugar and carbs and a LOT more protein than a sneaky pack of M&M's!
Mars have nailed the confectionery market...and now...the protein world too!! What can't they do!!
Why M&M's Hi Protein Powder?!
Tastes SO good!
REAL M&M - Chocolate flavour
Over 20g protein per scoop
Great Mix-ability
Only 5g Carbs per scoop
Only 141cals per scoop
M&M's Hi Protein Powder Ingredients & nutritional information:
Serving Size: 1 Level Scoop (35g)
Servings Per Container: 22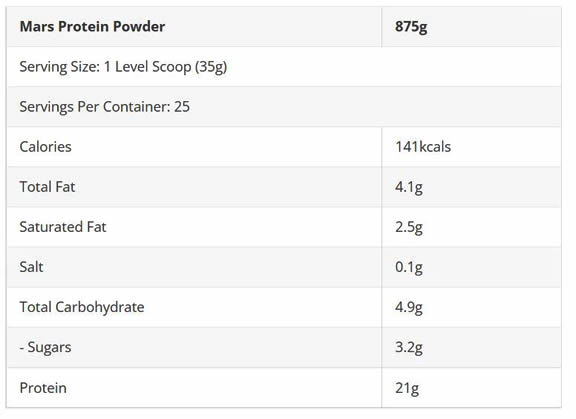 Ingredients: WHEY [MILK] protein concentrate (MILK)‌, fat reduced cocoa powder‌, whole MILK powder‌, flavouring, thickeners (xanthan gum, guar gum), refined coconut oil, sweetener (sucralose)

Customers who bought this product also bought: