Double Tap Fat Burner By REDCON 1 
Redcon1 DoubleTap is a thermogenic fat burner that has been designed to help you lose weight. Double Tap has just become a little more flexible. Our very effective fat-burning ingredient, now available in powder form, will impress you from the first dose. 
Metabolic booster with a high energy yield
Fat Burner of the Highest Quality
Appetite diminishing
Mood enhancement
500mg of Green Tea Extract – Antioxidant for Fat Loss
Dandelion Root is a diuretic that aids in the removal of excess water weight.
Improves concentration
Extreme Vitality
Each component, from Acetyl L-Carnitine to Dandelion Root and Green Tea, can boost your metabolism and help you burn more calories throughout the day than you would otherwise. If you're experiencing trouble with cravings or overeating, the extra 2-Aminoisoheptine will suppress your appetite, making you less irritated and grumpy while on a diet.
Whether you're looking to lose weight or utilise it as a pre-workout, this supplement belongs in any man or woman's supplement arsenal. Because it's powder, it's simple to dissolve in water and drink all day.
To us, that sounds like a fat-burning supplement that can be used all day.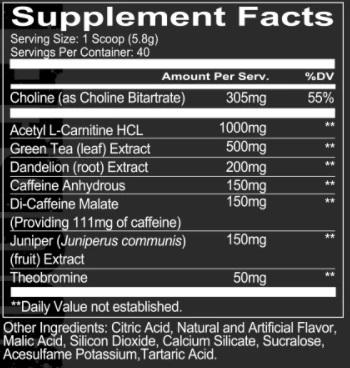 Customers who bought this product also bought: