When it comes to a truly comprehensive protein solution, get your hands on Athlete Standard Whey Protein by Body Science BSC. This protein powder has a combination of whey protein concentrate, isolate, hydrolysed whey protein isolate and hydrolysed whey protein concentrate delivering the body 25g of protein and very low fat and carb content.
This formula contains ingredients designed to support a healthy immune and digestive system. With added probiotics, prebiotics and digestive enzymes, you will give your body all the nutrients necessary to perform to your ultimate best.
Body Science BSC created this formula, especially for athletes and people living a healthy lifestyle. This protein powder has been tested and certified by HASTA, so no banned substances are present in it.
When you have Athlete Standard Whey Protein by Body Science BSC, you'll:
Support muscle recovery. This protein powder contains rapid-acting whey proteins as well as glutamine which will help with muscle repair and rebuild after a gruelling session.
Support lean muscle growth. This formula contains ingredients that encourage protein synthesis as well as muscle growth.
Support the digestive system with the added DigeZyme digestive enzyme blend, which will support better gut health.
Boost immunity with the added probiotics and prebiotics as well as glutamine. This protein powder will assist with a healthier immune and gut function.
Support body composition with this low carb and low-fat protein. You will stay within your macronutrients, which will help with body composition.
Consume a product that contains no gluten, soy, palm oil, corn cereal, added sugar, corn starch, gums, thickeners, artificial colours and flavours, artificial sweeteners and no non-whey proteins.
Support better absorption of nutrients with the added DigeZyme, which will help the body to utilise and digest nutrients at a faster rate.
Consume a product that has been tested for banned substances, so you can rest assured HASTA certifies this product.
Athlete Standard Whey Protein by Body Science BSC has everything you need to perform to your best every time you hit the gym.
Each serve (33g) of Athlete Standard Whey Protein by Body Science BSC has:
131 calories
25 protein dry basis
2.2g of fat and 1g is saturated
3.2g of carbohydrates and 2.4g is sugar
5.8g of branched chain amino acids
13.3g of essential amino acids
4.5g of glutamine precursors
1 billion probiotics
3g of leucine
5 digestive enzymes
Added probiotic and prebiotic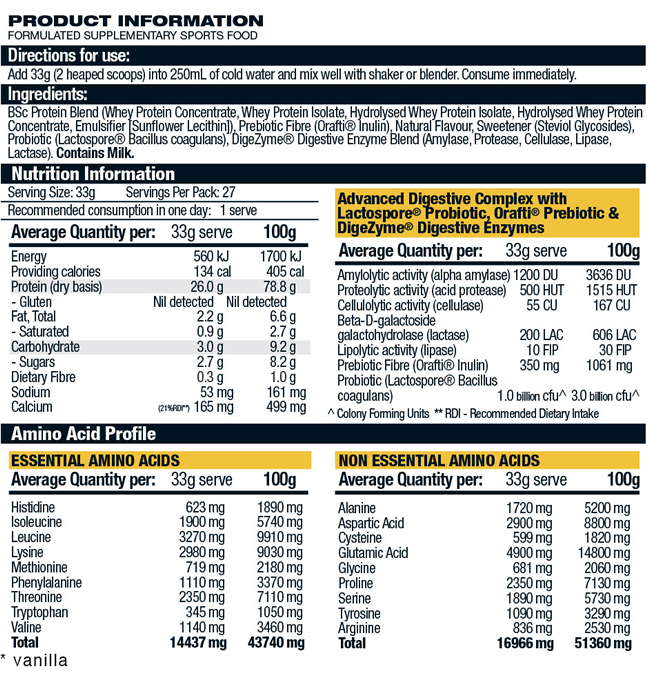 Customers who bought this product also bought: