DETAILS
Branched-chain amino acids (BCAA) are a composition of three essential amino acids leucine, valine and isoleucine. These essential amino acids are not produced in the body, and the only way of getting them in the body is through your diet. BCAAs are found in foods that are high in protein, which includes meat, eggs and dairy products.
ATP Science has scientifically formulated a product that has all three essential amino acids in a ratio of 2:1:1, which is leucine, isoleucine and valine. ATP Science has created a pure and clean formula to provide you with a premium product.
So, how do BCAA's work in the body?
BCAAs stimulate the building of protein in the muscles, which may consequently prevent muscle breakdown. This means you might be able to build more lean muscle mass and to avoid muscle breakdown.
The three amino acids in the formula have each a purpose within the body. This consists of leucine, which will act as the key to fire up the muscle cell or fibre. This amino acid will support muscle protein leading to more muscle growth.
On the other hand, isoleucine will aid with energy as well as support recovery after strenuous exercise. While valine will preserve muscles and regulate the immune system.
The combination of these three amino acids will provide your body with the key for muscle growth and recovery. When you combine BCAA 2:1: by ATP Science with a diet and exercise plan designed for your fitness goals, you will see better results.
When you have BCAA 2:1:1 by ATP Science, you may:
Increase protein synthesis. Branched-chain amino acids will trigger specific pathways in the body that stimulates muscle growth after exercise.
Reduce muscle breakdown as you provide the body with nutrients to protect the body for wasting muscle.
Support performance when working out.
This supplement will not replace a balanced diet and should only be taken by adults. BCAA 2:1:1 by ATP Science is naturally fermented and is GMO, gluten and sugar-free.
Each serve (5g) of BCAA 2:1:1 by ATP Science has:
20.3 calories
5g of protein
2.5g of Leucine
1.25g of Isoleucine
1.25g of Valine
No animal products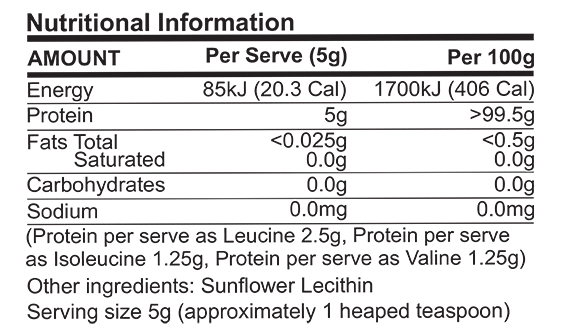 Customers who bought this product also bought: