When it comes to a pre-workout that is a high-stimulant formula not for the faint-hearted, you know Body Science will deliver. Pre Ultra by Body Science BSc has been specifically formulated for athletes and body builders who want to take their training to the next level.
The combination of ingredients will help you smash your session as well as break down mental barriers so you can achieve your goals.
When you take Pre Ultra by Body Science BSc, you'll:
Feel energetic and ready to take on your workout. The combination of citrulline, beta alanine, glycerol monostearate, L-arginine, agmatine sulphate and L-glycine will give you the pump of energy needed to smash out your session.
Stay focused and calm without feeling sleepy. The blend of nootropics will help decrease anxiety and boost mental clarity due to the unique blend of anxiolytic and adaptogen.
Improve strength, performance and power with the key ingredients. This will help you hit high intensity sessions with increased strength.
Get the muscle pump and maximum effort needed to smash it out every single session.
Prolong clarity without crashing out, which most pre workout drinks will give you.
Enhance vascularity. The presence of 750mg of glycerol monostearate will draw water into the muscles for a fuller and denser muscular physical appearance.
Pre Ultra by Body Science BSc is the pre workout that you want to have before every session to give the necessary punch to get through your workout. You will hit maximum effort in each set to achieve your goals.
Each scoop of Pre Ultra will give you:
3g of L-Citrulline DL-Malate to provide you endurance and decrease fatigue during your session.
11g of Beta Alanine to enhance muscular endurance as well as improve cardiovascular performance.
50mg of Rhodiola Rosea to help reduce mental and physical fatigue.
150mg of Caffeine Anhydrous to give the stimulation to improve physical strength and endurance.
100mg of L-Theanine to prevent you from crashing after a workout.
50mg of Ashwagandha (Withania) root to lower cortisol levels and improve physical performance.
5mg of black pepper extra to enhance the absorption of each ingredient for optimal results.
Improve your exercise performance and focus with Pre Ultra by Body Science BSc. This pre workout will give you the punch necessary to help you hit all your PB's without leaving you jittery. This unique blend provides key ingredients for optimal performance.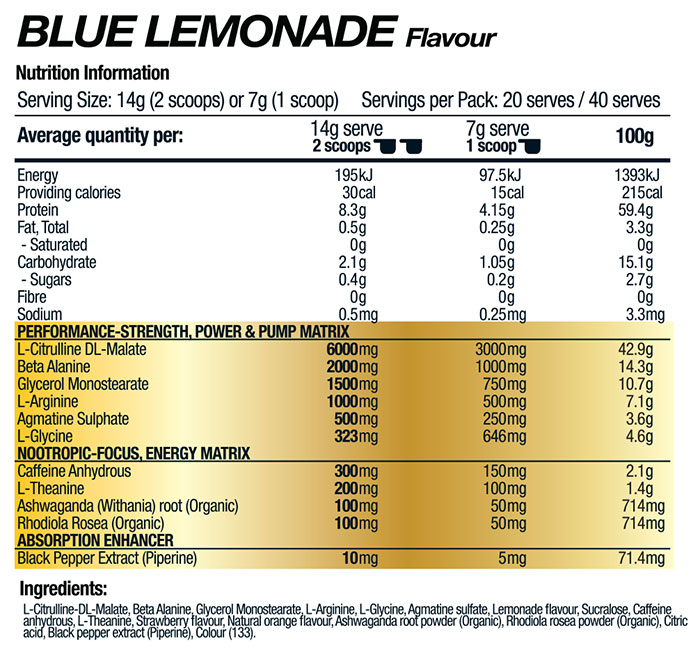 Customers who bought this product also bought: