100% WHEY PLUS
ADDED GLUTAMINE & LEUCINE - PROTEIN MATRIX: WPI & WPC
NUTRITION SNAPSHOT (PER 30G SERVE)
22g Protein
4g Carbs
4801mg Glutamine incl Precursors
SUPERIOR PROTEIN MATRIX
Pure Whey Protein Isolate (WPI) and Whey Protein Concentrate (WPC) are both rapidly digested for accelerated recovery and lean muscle gain.
BOOSTED WITH L-GLUTAMINE
Supplemented with L-Glutamine to aid in the prevention of muscle breakdown as well as support reduction of body fat and increase lean muscle mass.
LEUCINE FOR MUSCLE GROWTH
Leucine is the primary BCAA that contributes to muscle building. It's the amino acid which switches on the body's ability to build lean muscle.
FULL AMINO ACID PROFILE
100% WHEY PLUS has a complete amino acid profile, so it's great for rebuilding muscle and providing vital nutrition for the body. Amino acids are the building blocks of protein, and the BCAAs (branched chain amino acids) are the three key amino acids which are anabolic to promote muscle growth, and anti-catabolic to prevent muscle breakdown.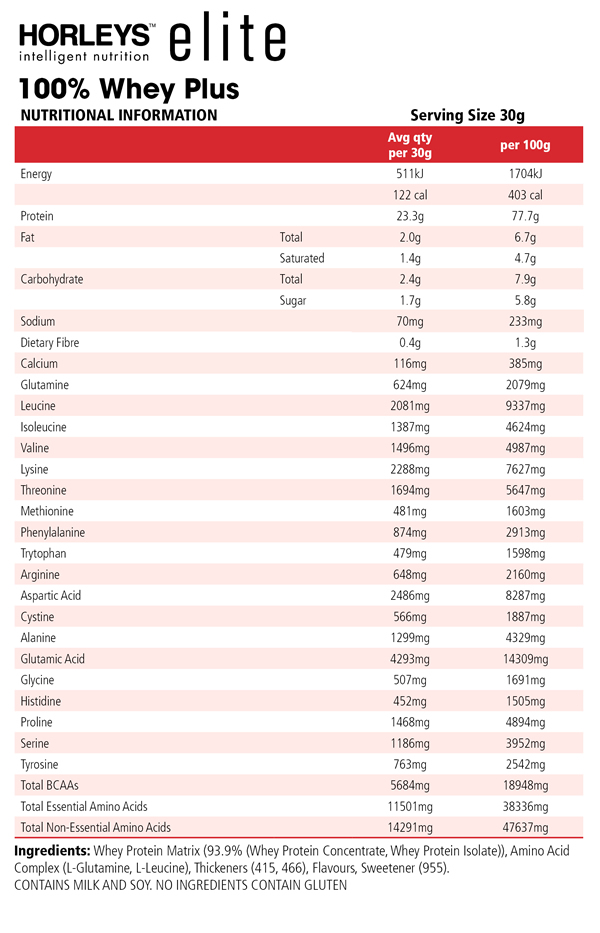 Customers who bought this product also bought: