RIPPED
ULTRA LEAN - THERMOGENIC PROTEIN
NUTRITION SNAPSHOT (PER 30G SERVE)
24g Protein
9g Carbs
Added Caffeine, Green Tea, Garcinia
THE ULTIMATE COMBINATION FOR GETTING RIPPED
Ripped is a thermogenic, a protein and a nutritional insurance policy all in the same container. Creating a calorie deficit to lose fat in conjunction with hard training can unfortunately result in muscle loss as the body breaks down muscle tissue to provide it with energy. Protect your hard-earned muscle by increasing your protein intake. Your body will take what it needs for fuel whilst also supporting lean muscle development.
BOOSTED WITH THERMOGENICS
Horleys unique thermogenic complex assists with fat metabolism and contains the top 8 shredding ingredients:
Caffeine, Guarana, Green Tea & Green Coffee - to boost metabolic rate and increase athletic performance
Carnitine - to metabolise fat so it can be used as fuel
Chromium - to assist blood sugar control
Garcinia - to help suppress appetite
Bioperine® - clinically proven to enhance the effect of caffeine and other nutrients
ULTRA-LOW IN FAT, CARBS & SUGAR
Perfect protein mix for those on a fat-loss diet and wanting to minimise calories.  Ideal for fat-shredding and muscle definition focused training.
ENHANCED with L-Glutamine
Includes added L-Glutamine, a powerful amino acid that promotes muscle growth, prevents muscle breakdown and aids muscle recovery, helping you to workout hard every time.
FAST & SLOW ABSORBING PROTEINS
Whey Protein Isolate (WPI) and Whey Protein Concentrate (WPC) are both quickly and easily absorbed by the body ensuring fast delivery of amino acids for muscle recovery, which is ideal for after a workout. Calcium Caseinate is digested slowly ensuring delivery of nutrition to your muscles for longer. You get the benefit of both with Ripped.
14 ADDED VITAMINS & MINERALS
Offering you full nutritional support whilst you shred fat. The vitamins and minerals have been specifically selected to ensure you don't miss out on vital nutrients when cutting calories.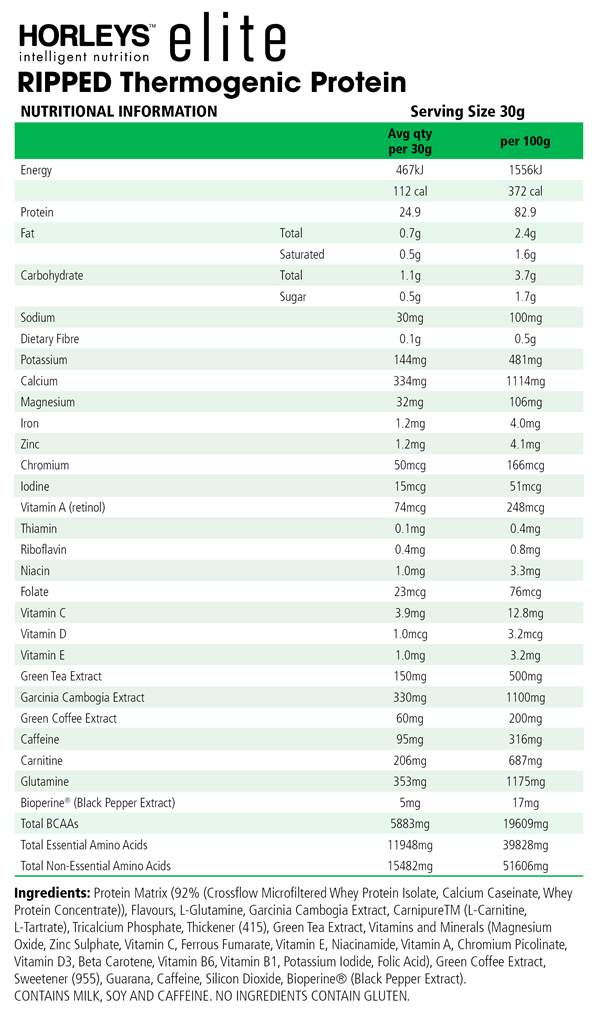 Ingredients: Protein Matrix (92% (Crossflow Microfiltered Whey Protein Isolate, Calcium Caseinate, Whey Protein Concentrate)), Flavours, L-Glutamine, Garcinia Cambogia Extract, CarnipureTM (L-Carnitine, L-Tartrate), Tricalcium Phosphate, Thickener (415), Green Tea Extract, Vitamins and Minerals (Magnesium Oxide, Zinc Sulphate, Vitamin C, Ferrous Fumarate, Vitamin E, Niacinamide, Vitamin A, Chromium Picolinate, Vitamin D3, Beta Carotene, Vitamin B6, Vitamin B1, Potassium Iodide, Folic Acid), Green Coffee Extract, Sweetener (955), Guarana, Caffeine, Silicon Dioxide, Bioperine® (Black Pepper Extract).
CONTAINS MILK, SOY AND CAFFEINE. NO INGREDIENTS CONTAIN GLUTEN.

Customers who bought this product also bought: