Ultimate Male Fuel by Gen-Tec
Welcome back, Ultimate Male Fuel! This re-release has the same fantastic formula you know and love, but in the convenience of an easily ingested capsule! The original male support formula has made a comeback from Gen-Tec. Gen-Ultimate Tec's Male Fuel's recipe combines Bulgarian Tribulus, Saw Palmetto, and Horny Goat Weed with Zinc, Magnesium, and Vitamin B6 to support physical endurance and stamina while boosting energy levels. Traditional Chinese herbal remedies including Tribulus Terrestris and Epimedium Saggittatum (horny goat weed) have long been used to promote male sexual performance, stamina, and endurance. Saw palmetto, or Serenoa serrulata, may help with the treatment of benign prostatic hypertrophy that has been diagnosed by a doctor. The male body's physiological processes are supported by the combination of these three herbs with zinc, magnesium, and vitamin B6.
The benefits of using Gen-Ultimate Tec's Male Fuel on a regular basis include:
Increased libido
Increased energy
Increased efficiency.
Test boosters and pro-male herbs can play a bigger role in our lives to support healthy well-being and long-lasting vitality, which is why Gen-Ultimate Tec's Male Fuel is TGA listed, approved, and confirmed to perform both in its quality of ingredients and in its benefits to improving men's daily vitality and stamina. Test your Test levels and see the difference Ultimate Male Fuel can make.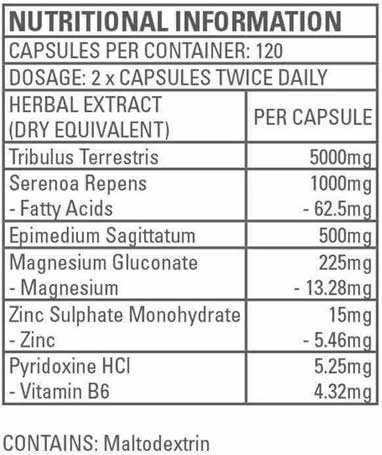 Customers who bought this product also bought: