If you loved Maxine's skinny pills you are going to really love their burn pills. Unlike the common practice of simply relabelling an old product as new, Maxine's have brought a new MAXIMALLY DOSED product with nearly 70% more active ingredients to the market.
Increase Brain Function
Suppress Appetite
Support Hormonal Balance
With an improved nootropic blend, Maxine's Burn pills will not only have you burning more fat than you could with their skinny pills but it will also have your brain and mood function skyrocket.
Increase productivity, enhance memory retention and increase fat burning while you're at it.
Maxine's Burn Pills will be a girl's new best friend!
Combining potent botanicals, high-performance amino acids and herbal extracts proven to support metabolic performance, Maxine's Burn pills are designed to maximise fat breakdown, ensure hormonal health is balanced and that mood and energy production is optimised.
Core Ingredients
Fat Burning Complex
The fat burning complex combines 6 core ingredients focusing on the support of metabolic performance, enhancing digestion, reducing the inflammatory response caused by calorie restriction and enhancing the impact of other ingredients through synergistic performance coupling.
Energy Amplifying Complex
This 4-way blend combines the most efficacious performance enhancer in caffeine, which also enhances fat breakdown, with theacrine and tyramine, which support the release of adrenaline and dopamine for optimal mood and energy production.
Focus and Intensity Complex
Utilising 5 potent nootroprics, the focus blend supports the creation, stimulation, and release of key neurotransmitters responsible for improving mood, focus, memory retention and general brain function. Combined with L-Theanine, the focus blend also acts as an anti-anxiolytic blend, reducing anxiety-like symptoms experienced by some via increasing a feeling of calmness.
Fluid and Hormone Control
Combing Kelp, Uva Ursi and DIM, this hormonal control blend supports the removal of negative estrogen build up, prevents heavy estrogen dominance and supports metabolic performance due to its positive impact on thyroid function.
DIRECTIONS
Take 2 capsules with breakfast or lunch. Do not consume on an empty stomach. Do not consume within 4 hours of bedtime as it may cause restless sleep.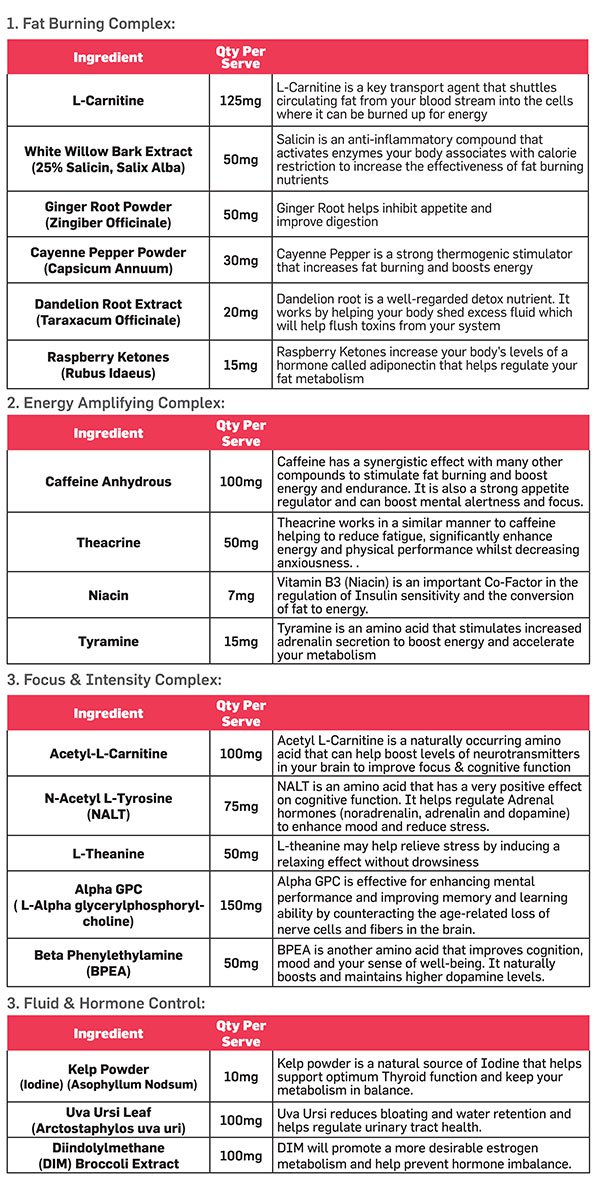 Customers who bought this product also bought: