ULTRA PREMIUM PROTEIN & CARB MATRIX
TRUE-MASS® 1200 is an ultra-premium super mass weight gainer designed for individuals with high calorific requirements or those who have difficulty gaining and maintaining mass.
BSN®'s signature protein formula is paired with a unique complex carbohydrate blend that includes oat flour for a convenient source of nutrition and extra calories.
BSN® distinguishes itself with a delicious milkshake-like taste that makes getting those extra calories a pleasure rather than a chore.
For the true hard gainer or anyone in need of serious calorific support TRUE-MASS® 1200 is the ultimate mass gaining option.
Product Highlights
Ultra Premium Protein & Carb Matrix
Dual carbohydrate sources including oat flour
1200+ calories per serving from 50 g protein and premium carbohydrate complex
Highly dense macronutrient profile for hard gainers
Superior taste – remarkably rich and satisfying milkshake signature taste
KEY INGREDIENTS
54 g of high quality multi-source protein per serving*
210 g carbohydrates per serving*
15 g dietary fiber per serving*
Directions for use
Mix 2 rounded scoops with 470ml of cold water.
Recommended daily consumption of 1 serving (2 scoops) per day.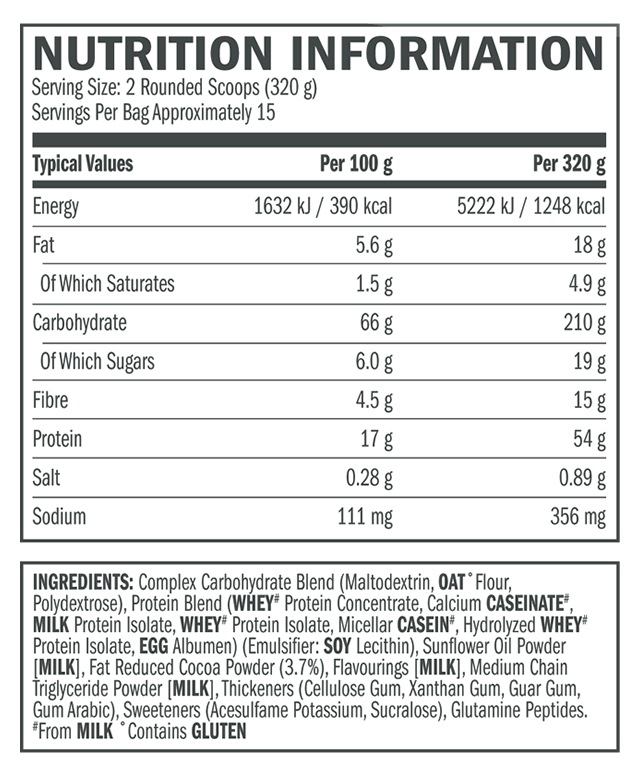 Customers who bought this product also bought: