Utilize Promera Sports Con-100% Cret's Creatine Hydrochloride power to accelerate your recovery and boost performance! This innovative, premium supplement provides creatine in a distinct form. The incredible advantages of regular creatine are all included in Promera Sports Con-Cret, but at a far lower quantity and without any negative side effects like cramping, bloating, or water retention. Additionally, compared to creatine monohydrate, this product is 59 times more soluble!
Creatine Hydrochloride 100% (C-HCl).
There is no need to cycle on or off.
Neither cramping nor water retention.
Superior solubility.
Increased energy for active muscle.
Enhanced Plasma Uptake
No GI distress, bloating or cramping
The only creatine supplement that permits Micro-Dosing® based on your body weight and workout intensity is Promera Sports Con-Cret. The main component, creatine hydrochloride, has been clinically shown to be useful in increasing strength and muscle mass by joining a hydrochloride group to creatine to generate a salt. Longer and more intense workouts with shorter recovery times are made possible by its superior bioavailability and plasma uptake, making it the ideal supplement for anyone looking to maximise their performance. Do you enjoy working out quickly and making large gains? Then Con-Cret from Promera Sports is your new go-to supplement. Use it to increase extra endurance and muscle growth steadily and consistently without taking larger doses of the supplement!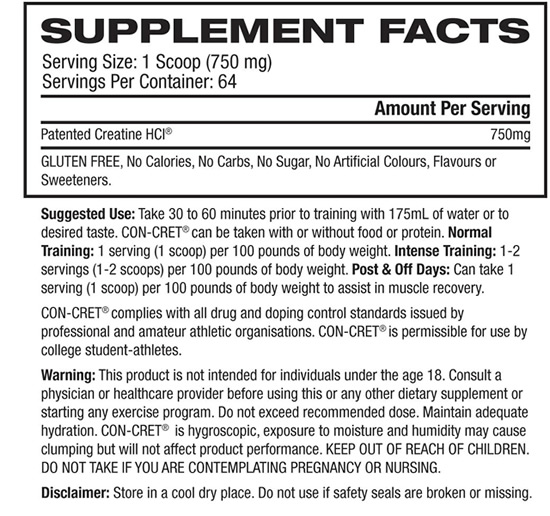 Customers who bought this product also bought: