L-Glutamine may also assist in the fueling and detoxifying of the brain. Thus, L-Glutamine has been dubbed "the thinker's amino". L-Glutamine's muscle and brain tissue supporting qualities have made L-Glutamine an invaluable addition to an athlete's regimen.
In addition to the direct muscular benefits often reported with this supplement, L-glutamine is also linked with nervous system supporting qualities that make it a versatile and valuable component in your diet.
Laboratory Tested for Quality and Purity.
DIRECTIONS
As a dietary supplement, take one rounded teaspoon daily. Mix Glutamine with water or your favorite beverage. Consult with a physician prior to use if you have any medical condition. Do not use if pregnant or lactating. Keep out of the reach of children.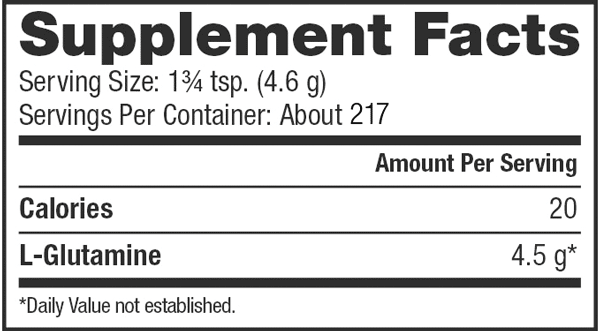 Customers who bought this product also bought: