With Beta Alanine from International Protein, perform at your peak. The proprietary ingredient Carnosyn, a cutting-edge composition that instantly supplies carnosine to the muscles, is present in this dietary supplement. The beta alanine contained in this patented chemical is of the highest and most useful quality. With this quick release carnosine, you may train longer and more effectively.
A non-essential amino acid called beta alanine aids in raising carnosine levels in muscle. During intense activity, carnosine aids in lowering muscular acidity. Beta alanine can help you recover more quickly after a workout and increase your endurance. When you are in the gym, this quick release carnosine supplement will assist you in giving your best effort. This Beta Alanine supplement has been expertly designed by International Protein to support your optimal performance.
What are the advantages of International Protein's Beta Alanine?
Support power and performance.
Boost your endurance.
A rise in carnosine
Reduces the accumulation of lactic acid.
Contains the proprietary compound CarnoSyn.
When should I take International Protein Beta Alanine?
It is advised to take beta-alanine before working out. For the greatest outcome, take it 30 minutes before going to the gym or beginning a session. You'll feel a tingling feeling, but that's just a beneficial side effect of beta alanine.
Is it OK to combine beta alanine and pre-workout?
Yes, if you'd like to. If your pre-workout doesn't contain beta alanine, adding a pure dose of it will assist your body produce less lactic acid, allowing you to exert yourself for longer. This supplement is excellent to take before exercising since the beta alanine will aid to increase exercise capacity, improve performance, and reduce muscle tiredness.
Directions of use
Mix 1.2 g (one scoop) of International Protein Beta Alanine in 200 ml water or add to your pre-workout. Take it 30 minutes before your workout for the best effect. Use Beta alanine daily for 15 days straight to allow it to build up in your body.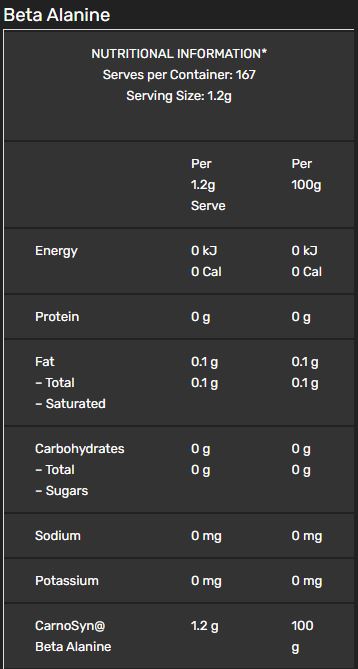 Customers who bought this product also bought: