Would like a protein that can aid in muscle growth and maintenance and speed up the healing of your joints and ligaments after exercise? The greatest protein content available on the market is found in Athletic Sport Whey with Collagen Peptides. We knew we wanted a product when we were formulating that was not only a complete protein, meaning it contains all the key amino acids your body requires (and cannot make on its own) to keep creating proteins (protein synthesis). Because collagen peptides have smaller molecules than other supplements, the body may more easily absorb them and begin using them to assist muscular building. Collagen is the most prevalent protein in the body and the main building block of connective tissues, which include tendons, ligaments, skin, and muscles, among other body parts. The body uses type 1 and type 3 collagen for a variety of vital processes, including giving your skin structure and supporting your bones. As we age, the body produces less collagen, thus we need to eat more collagen to maintain our youthful appearance. Only supplemental goods like our protein can be used to replace this.
The most delicious method to increase your protein consumption is with Athletic Sport Whey Protein with Collagen Peptides! The best natural flavours we could discover were used to develop this product's flavour, which was a major consideration.
The highest serving of protein available on the market (33g)
Creatine peptides (type 1 & 3)
Well-dissolving powder that is smooth and creamy
complete amino acid profile with EAAs
Neither artificial flavours nor colours
Low Sugar, Low Carb
Ingredients
Whey Protein Hydrolysate
Hydrolysed Bovine Collagen Type 1 & 3
Whey Protein Isolate
Directions for use
Mix 1 scoop (44g) of Athletic Sport Whey Protein with 300-400ml of cold water or mill depending on your preference and consume any time during the day. This is an extremely versatile product, so if you are looking to change things up, add a scoop into a smoothie, pour the shake over a bowl of cereal or mix into a bowl of warm oats for creamy, protein-packed goodness.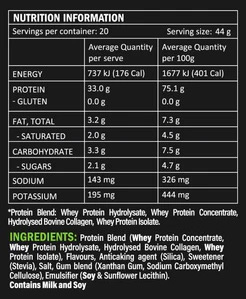 Customers who bought this product also bought: