A simple carbohydrate mixture called Gen-Pure Tec's Carbs is intended to improve the replacement of your exhausted glycogen stores after your workout. This aids in healing and gets your body ready for the following challenging activity.
Effortless Energy.
Entirely anabolic.
Enhanced endurance
In Pure Carbs, Gen-Tec Nutrition offers a high-quality medium-chain carbohydrate polymer. This inexpensive item has a wide range of uses.
Pure carbohydrates will raise blood sugar levels and have an impact on the most anabolic hormone in the body. It is secreted by the pancreas as blood sugar levels rise, and because it is anabolic, it will cause blood nutrients to enter muscle cells. . Utilizing Pure Carbs along with the HCIs of glutamine (Ultimate Nutrition L-Glutamine) and creatine (Met-Rx Quik Creat) will significantly boost the uptake of these proteins and provide an anabolic environment for muscle growth. To boost the amount of carbohydrates for a full meal replacement, Pure Carbs can also be blended with another protein powder or whey hydrolysate, such as Nutrabolics Hydropure.
SUGGESTED USE: Consume 40g (2 scoops) mixed in 600mL of water before, during or after exercise. Store in a cool, dry, dark place.
TIPS: Use Gen-Tec Creatine, Glutamine 320 and BCAA's with PURE CARBS during intense exercise to support energy, strength, lean muscle gain and recovery. Mix with Gen-Tec Hydro Pro WPI immediately after exercise for glycogen replenishment and anabolic drive. Mix with Macro Pro 7 or Pro Whey at other times for meal replacement and weight gain.
INGREDIENTS: Maltodextrin, Fructose, Dextrose Monohydrate, Chromium picolinate.
May contain traces of milk, soybeans, cereals containing gluten, tree nuts, egg, sesame seeds and their products.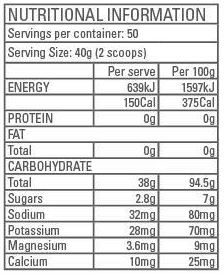 Customers who bought this product also bought: