Glutamine Gen-Tec 320
When it comes to the quality of their raw amino acids, Gen-Tec is incredibly meticulous, and the same is true with their product Glutamine 320. The most prevalent amino acid in the human body, glutamine is especially prevalent in the lining of the digestive tract. Because of this, many glutamine users have reported benefits like better digestion and general gut health. As this product undergoes a proprietary 18 stage extraction and filtration process to maximise purity, Gen-Tec has really gone above and beyond in terms of product quality. After being extremely finely ground, the glutamine is next placed through a micronized mesh to ensure greater mixability, which enhances digestion and absorption. Get a tub of Gen-Tec Glutamine 320 today instead of settling for amino acids from companies that cut corners or utilise fillers.
Key Components
The 20 amino acids that are present naturally in dietary protein include L-glutamine. It is the most prevalent amino acid in human blood and the immune system's preferred fuel source, which explains why it is so advantageous for preserving gut health.
Indications
Gen-Tec is a well-researched company that supports its products with science.
This product blends nicely thanks to the premium micronized powder.
Totally pure and flavourless, this product is ideal for stacking.
Can help with gut health and immune system improvement.
One of the most vital amino acids in the human body is glutamine.
SUGGESTED USE: Mix 1.9g in 150mL non-acidic fruit juice or water and consume before, during or after training. Can also be used upon rising on an empty stomach. Store in a cool, dry, dark place.
INGREDIENTS: Pure Micronised OPTIPURE™ L-Glutamine Powder
May contain traces of milk, soy beans, cereals containing gluten, tree nuts, sesame seeds and their products.
DISCLAIMER: Formulated Supplementary Sports Food.
This product is not a sole source of nutrition and should be consumed in conjunction with a nutritious diet and an appropriate physical training or exercise program. Not suitable for children under 15 years of age or pregnant women. Should only be used under medical or dietetic supervision.
Made in Australia from local and imported ingredients.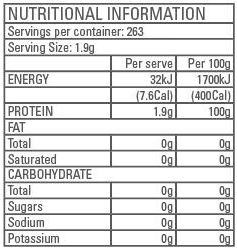 Customers who bought this product also bought: