OxyGreens is a superb supplement for anyone who wants to improve their health and wellbeing, but has trouble getting the recommended amount of fruit and vegetable consumption each day. OxyGreens helps reduce oxidative stress and supports the liver's natural detoxifying processes, as well as boosting immunity, ensuring proper digestion, and maximising the body's ability to extract nutrients from the food it eats.
The most delectable organic super greens have been developed by EHP Labs and contain key nutrients to increase immunity, wholefood prebiotic fibre to aid digestion, and alkalizing wild berries to improve general vitality and wellness.
You are not alone if you find it difficult to consume the recommended daily amounts of fruits and vegetables for good health and wellbeing. However, Oxygreens tastes fantastic and has no bitter or grassy aftertaste, making it easy and fun to consume the recommended daily amounts of nutrients.
Boost general stamina
Encourage immunity
Enhance gastrointestinal health and wellbeing
No grassy aftertaste
Daily vegetables in one delectable serving
A potent combination of antioxidants, prebiotics, and greens
No caffeine or other additives
Ideal for mixing into smoothies or enjoying on its own
Help the liver detoxify: Barley Grass, Broccoli, Kale, and Spinach are the main components of the Green superfood complex. Magnesium and the antioxidant vitamins A, K, E, and C, which maintain a strong immune system, are abundant in these potent greens. Antioxidants lower the risk of illness and disease by assisting the body in eliminating undesirable poisons that can accumulate as a result of normal bodily functions and environmental stresses.
Boost Immunity & Vitality: Additional greens have been added to this green superfood powder, including celery, spirulina, chlorella, and kelp. They are abundant in vitamins, minerals, iron, and chlorophyll to boost general wellbeing and maintain a healthy digestive system. According to studies, spirulina may also support a strong immune system.
Our daily greens powder has a prebiotic fibre complex that includes chicory root, green kiwi fruit, green banana, and larch to help promote a healthy gut and improve digestion. These Superfoods support a healthy digestive system and the growth of good gut bacteria. This increases nutrition absorption in the gut lining, encourages bowel regularity, and lessens stomach bloating.
Directions: One scoop is all you need to get your daily intake of greens!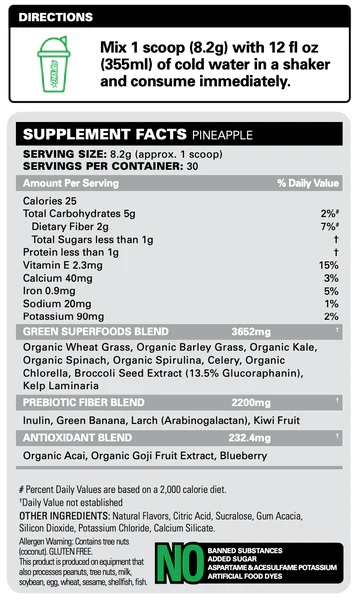 Customers who bought this product also bought: