Inspired Nutraceuticals are totally dominating the Australian market, and their pre-workout, Inspired DVST8 Global, is one of the cleanest recipes you will ever see. It has 250 mg of caffeine, which will undoubtedly give you a strong kick but won't likely leave you feeling too out of your element. In order to get the most out of your training session, it also contains a variety of compounds that can help with pump, endurance, and even concentration. The price of this supplement, which is among the finest you will ever find for pre-trainers at $39.95 for 30 servings of this premium mix, is arguably its most astounding feature. Inspired DVST8 Global Pre-Workout is an excellent option if you want a product that works well, tastes nice, and is affordable.
Key Components
The main component of most pre-workout supplements is caffeine, which boosts energy and improves attention. The body can quickly and easily absorb caffeine, which functions quickly to get you ready for your session. Since more is not always better, Inspired created this formula without the need to add excessive amounts of caffeine while still generating a fantastic product.
Key Features
Boost focus and energy
Improve muscle pumps
Strengthening Effects
No Artificial Colors
Friendly to Vegans
Indications
includes citrulline malate, which may aid in enhancing muscular pumps.
Added beta-alanine will increase your ability to work out for longer.
A fantastic choice for anyone wishing to enhance their training effectiveness
additional nootropics, such as l-tyrosine and Alpha GPC, to improve focus
DIRECTIONS FOR USE:
Mix 1 serve ( 1 scoop ) per 400ml of water 30 - 45 minutes before your workout. DO NOT exceed 1 scoop in a 24 hour period.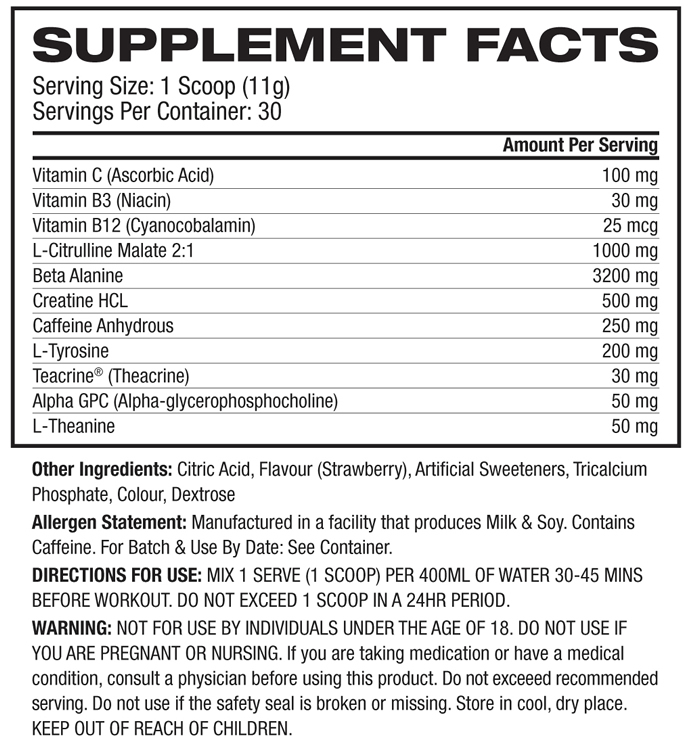 Customers who bought this product also bought: