Inspired DVST8 Pumped AF
Introducing Pumped AF, a brand-new pre-workout from Inspired Nutraceuticals that stimulates without caffeine. You will enjoy this comprehensive and clinically studied pump pre-workout if you enjoy the brand that gave you one of Australia's strongest pre-workouts, DVST8 BBD. Look no further than DVST8 Pumped AF by Inspired if you dislike the jittery sensation that stimulant-loaded pre-workouts cause or if you want the pump but still want to sleep later in the night.
Both professional athletes and recreational gym goers can benefit from the advantages of a stim-free pre-workout by using Pumped AF, and they can stack it with their prefered stimulant product of choice. To increase endurance, power output, and buffer lactic acid, clinically studied and ground-breaking vasodilation substances are blended with top-quality active compounds.
The advantages of Inspired DVST8 Pumped AF for every serving include:
Pre-workout without stimulants, available day or night
Focus and skin-splitting pumps during exercise
prescription-only ingredients
Optimised cell volumisation
There is bound to be one that works for you and your objectives since it comes in three delectable flavours: California Gold, Grape Soda, and Pink Pineapple, as well as an unflavoured tub, to stack with any pre-workout flavour. For people who are sensitive to caffeine or who wish to workout later in the day without staying up late, Inspired Nutraceuticals may have created the BEST pump solution.
In order to guarantee that you always receive exactly what your body requires, Pumped AF only employs the best quality ingredients, many of which are patented and have been through several tests. Increasing blood flow not only gives us that pumped-up sensation we love but also feeds the muscles with extra nutrients and oxygen for improved performance. Take advantage of the incredible combination of substances and feel stronger while being hyper-pumped and focused.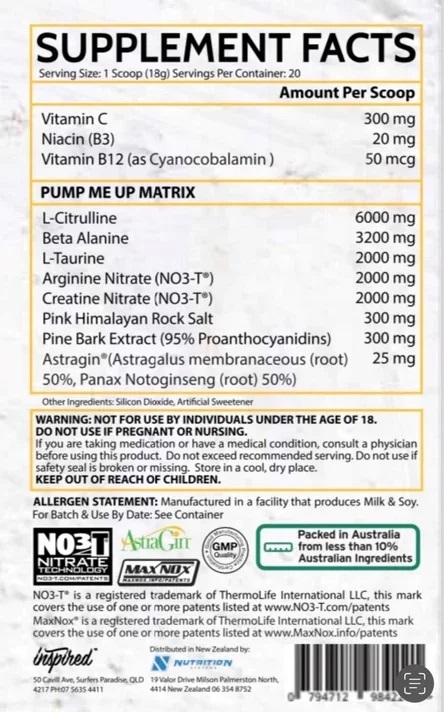 Customers who bought this product also bought: